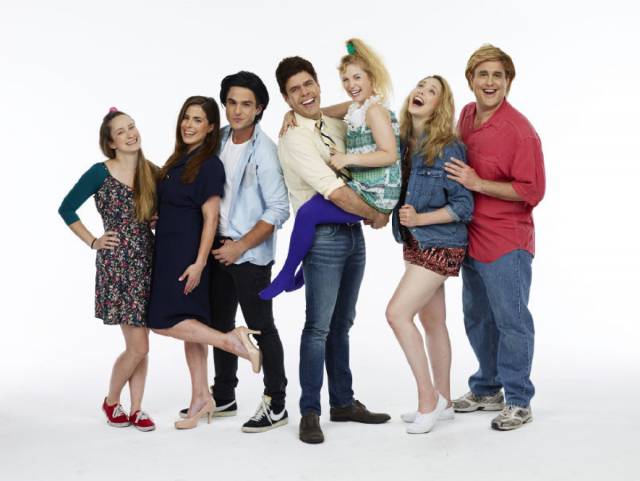 Okay, so Full House! The Musical! is not Shakespeare. But given the Netflix reboot, Fuller House, slated for 2016, it's certainly topical, and tucked away in the historic Theatre 80 on St. Marks, it can be a damn good time if you're willing to let it.
This self-proclaimed "Tanner Family Parody" opens in New York City dragging a storm of terrible reviews in its wake from its run in Toronto, making this an appropriate time, in my opinion, to rehash the old adage, "pick on someone your own size." Because though helmed by an unquestionably notorious media personality, Perez Hilton, the play is scrappy and small, cobbled together on what I can only surmise is a shoestring budget, in a theater that, despite its venerable history (Billy Crystal ushered back in the day) has been known lately for its more colorful productions, such as the long-running Bayside! The Musical!, a Saved By The Bell musical parody that (surprise!) just so happens to be penned by the same creative team as the current offering, writers and directors Bob and Tobly Smith, who work under the auspices of National Lampoon. Yes, the very same highbrow brand who has, in more recent years, stamped their name on such gems as Pledge This! starring Paris Hilton.
Bottom line, duh, it's bawdy, duh, it's crass, and it's offensive in the smirking way only a 13-year-old boy can be, but with a fun, determined cast, it's high-spirited, plucky, and has genuine moments of comic gold, a couple of which even brought me close to tears.
As far as structure goes, Full House! The Musical! attempts a loose narrative arc, while also working to hit plot highlights from the show's whopping eight season run. (The second act is referred to as the "second season" at one point.) The central dilemma eventually comes to revolve around the particularly dark occurrence of Michelle, the youngest of the three Tanner daughters, losing her memory after a horseback riding accident. Michelle's amnesia forces the actors into meta-existential crisis -- no longer able to inspire his family, Danny Tanner regresses into foul-mouthed, perverse Bob Saget, DJ and Stephanie spiral downwards into their own dark, teenage temptations, Uncle Joey gets a desk job and gives up on his dreams, etc.
Plot or not, the show is driven by a lively and catchy series of musical numbers, backed by an in-house band, appropriately called Jesse & The Rippers, that are primarily thematic in nature. The musical suffers from some tone-deafness, running the extreme from jokes that are too obvious, such as Mary Kate and Ashley portrayed as coke-addicts in enormous sunglasses, to jokes that were just too uncomfortable, like implied sexual activity between sisters DJ and Stephanie. But with Perez Hilton at the helm as the family patriarch, the show hits the nail on the head when it picks apart the more sinister edges of the beloved family sitcom, from the death of Danny's wife, to the indirectly addressed but deeply religious undertones, to, well, I'll just quote the chorus: "no gays in San Francisco." Proving that the best jokes write themselves, one actress plays Michelle, and is called "Mary-Kate-and-Ashley," which may or may not be an intentional nod to an odd aspect of the show's production history: in an effort to keep the audience in the dark that the role was played by twins, producers credited them as "Mary-Kate Ashley" for most of the show's run.
National Lampoon has a close knit history with Saturday Night Live, thanks to Chevy Chase, Billy Murray, and more stitching the two titans together. Unfortunately, Full House! The Musical! sometimes felt like that SNL sketch that just goes on too long. However, also like an SNL sketch, a few small moments of joy came unexpectedly when the actors -- just for a flash -- broke character, seemingly aware of the absurdity of it all, and giggled, such as when two actors played out a scene involving a stuffed animal, a hand-puppet, and a sex toy.
Marie Eife as DJ and Marguerite Halcovage as Stephanie are talented singers and fearlessly committed to their roles, while John Duff, as Uncle Jesse, has great physical control and is appropriately charming. Bridgett Russell Kennedy rounds out the cast as Aunt Becky, singing one of my favorite numbers of the evening about being a '90s woman. Seth Blum does a considerable amount of the comedic heavy lifting, playing not only aspiring comic Joey Gladstone, but also a host of other characters, from the dog to DJ's hypersexual best friend, Kimmy Gibbler, undoubtedly an audience favorite.
New Yorkers have a well-earned reputation for being just too cool for most things. When it comes to Full House! The Musical! check your attitude and your leather jacket at the door, knock back a beer or two, and just go with it -- I bet you'll have a damn good time. Exclamation point!