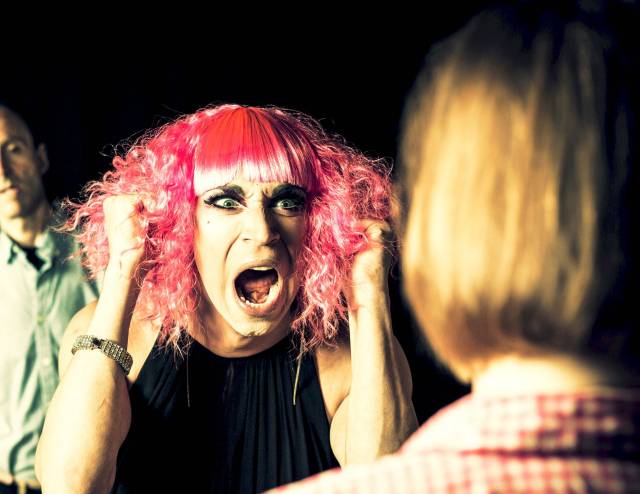 About five kinds of frustration occur when the curtain comes down on Colin Drucker's Mother's Day, presented as part of the New York International Fringe Festival, and all arise from the fact that this is a play with seriously important potential and a whole lot of good theater to offer. There's a classic quality to this extremely modern drama with comic overtones; it is in fact a cousin to O'Neill's Long Day's Journey into Night, and we are faced with a mother and father, two very different sons, a little substance abuse prompting painful confessions, and the awful and deeply embedded issues as reliable in families as the holiday meal menu. What's more, the resemblance does not end there, because Drucker has a keen understanding of the many layers between parents and children which both connect and distance. He also has the skill to present the clashes and bonds as the fragile, uncertain interactions they are in life, when loved ones collide but no one is sure, ever, about just how much damage is being done at any moment. All of this creates significant - underline that, please - theater, a reality brought home in a conclusion that is stunning in its honesty and simplicity.
The frustration gnaws, then, because elements of the play do not serve the impressive quality of the play. Momentum builds and Drucker wisely breaks the tension with a more relaxed scene between the flamboyant drag queen son and the slacker brother but, not to put too fine a point to it, an intermission is needed because everyone on stage and off requires a breather. Too much, even well-crafted, is still too much. The direction of Reginald L. Douglas feels a little trapped by the simple set, and some of the action seems motivated mainly by the desire to get someone off the damn couch once in a while. Karl Gregory's drag queen son is better than a star turn because, an unfortunately overdone entrance aside, he is real. More problematic are Renee Claire Bergeron's mother, un-deft in the transition to drunken revelation, and the too diffused father of Neal Lerner; both characters demand more solid, if wavering, presences. And Brough Hansen's slacker brother is absolutely too energetic, as anyone with a slacker brother will perceive.
Those are the problems. They affect the play. But they are not the play and this is a play that, in the tradition of a lot of great theater that is imperfectly executed, really, really should be seen. Watch out, theater lovers, for Colin Drucker.
Performances of Mother's Day continue through August 24 at the Players Theatre as part of the New York International Fringe Festival. For more FringeNYC shows, click here.