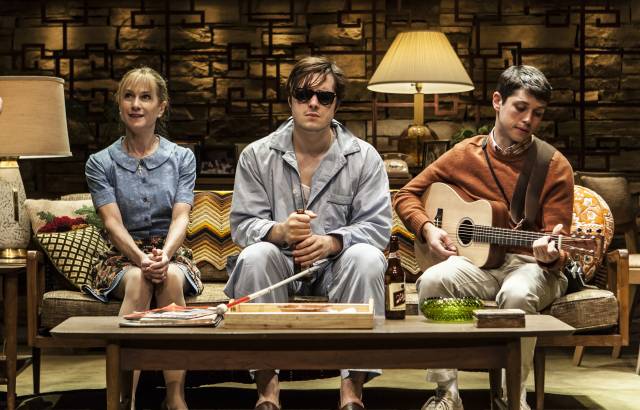 David Rabe's Sticks and Bones took the Tony for Best Play in 1972. It also - and I remember it well - shook up New York theater like a 5 on the Richter scale. Nothing before had so slammed together ideas of classic Americana and the broken jetsam of lives destroyed by Vietnam.  The way in which Rabe fused the mundane with bitter recrimination was nothing short of gasp-inducing.  More than 40 years later, Sticks and Bones has received its first major New York revival in an Off-Broadway production from the New Group, directed by Scott Elliott.  Which of course begs the question: how does it hold up?
Ozzie (Bill Pullman), Harriet (Holly Hunter), and Rick (played to sociopathic perfection by Raviv Ullman) welcome home elder son David (Ben Schnetzer), whose blindness is the least of the miserable legacies from his time in Vietnam. It is a scenario of layered fury from the start.  Ben Schnetzer's David is a wonder of subtext -- both righteous and a scared bully, he frantically clings to redemption from the girl left behind.  Nadia Gan's ghost presence as the girl achieves the impossible: she is one with reality, which is the best any phantom may do.  Richard Chamberlain's family friend/priest is all dogmatic charm, his performance an ideal of hollow confidence and geniality.  And Bill Pullman commands the stage. Subtle and symphonic, he extracts bit by bit the depth and turmoil within the easy-going, raspy-voiced husband and dad thrown onto a battlefield himself.  Holly Hunter's Harriet, however, is discordant - there is spunk, fear, and hyper-domesticity, but there should be a core of strength somewhere in here as powerful as David's rage, and it's missing.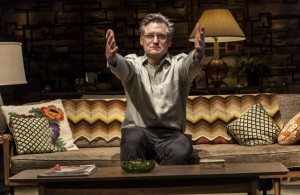 From the pragmatic to the sublime, Derek McLane's set and Peter Kaczorowski's lighting create a superb whole like great actors connecting. It is no minor feat when a '70s living room wall, cracked by light, takes the audience to the other side of the world.  Somewhat less successful is Elliott's staging. The play careens in multiple directions at once, jumping from comic desperation to hints of psychosis in virtually every scene -- which is quite all right, but calls for more precision than Elliott provides. This is a fragmented nightmare and we need all the clarity we can get.  When all is said and done, however, the good of the play and production is what haunts you, and the lasting shards of brilliance within Stick and Bones shine today.
---
By David Rabe; directed by Scott Elliott; sets by Derek McLane; costumes by Susan Hilferty; lighting by Peter Kaczorowski; music and sound by Rob Milburn and Michael Bodeen; projections by Olivia Sebesky; fight direction by UnkleDave's Fight-House; production supervisor, PRF Productions; production stage manager, Valerie A. Peterson; associate artistic director, Ian Morgan. Presented by the New Group with Richard Chamberlain (Father Donald), Nadia Gan (Zung), Holly Hunter (Harriet), Morocco Omari (Sergeant Major), Bill Pullman (Ozzie), Ben Schnetzer (David) and Raviv Ullman (Rick). At the Pershing Square Signature Center, 480 West 42nd Street, through Dec. 14. For more information and tickets visit https://www.thenewgroup.org/sticks-and-bones.html