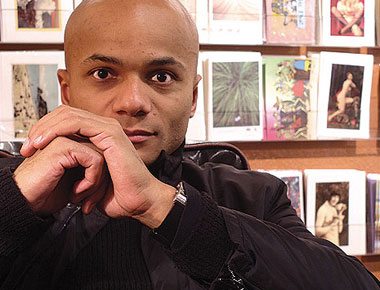 It might be over-the-top to call Omar Sangare a "man with a mission", but as founder and Artistic Director of the United Solo Theatre Festival, he has certainly spent a good deal of time, energy, and passion in promoting the one-person show in its many variations. The Festival is currently enjoying its fifth year on Theatre Row, where for several months each fall it presents hundreds of solo performances ranging from self-exploration to musical works to original, one-character drama.  I spoke with Sangare to learn more about his interest in solo theater.
Half Polish, half African, Dr. Sangare was very much singled out in Warsaw, in real life and at the National Academy of Dramatic Art (and, later, when he studied with the British American Drama Academy). It was this uniqueness, as Sangare informed me, that led to his fascination with solo performance. "I was born in a very...theatrical situation," he explained. "I was born a solo person surrounded by quite a curious audience, as the only dark-skinned guy, not only in my neighborhood, but in the entire homeland in Poland. From the start, I saw people looking at me, waiting for me to offer some sort of interaction to explain who I was. I think this led me organically to discover theater as a way of expressing myself and my identity."
Thus commenced years of training and education encompassing virtually every aspect of the dramatic arts. "There were professors who saw me and thought, well, he can play Othello, and then Othello again. But others were more brave and saw me as representing and interpreting Polish literature as well." Acrobatics, sword fighting, diction, Method, Commedia dell'arte, advanced technique - all this became Sangare's life, and he embraced the expansions in his own perceptions: "The psychological approach to acting was definitely a revelation for me because I understood our job as actors and directors is not only artistic, but scientific. It was a very broad spectrum of what contemporary theater could be, and needed to be."
Fluent in both English and Polish, Sangare is a bestselling author in Poland, where he has released collections of his short stories and poetry.  We spoke about what a second language means for an actor, which intrigues the hell out of me and which he by no means sees as a drawback: "To use language with sophistication and pleasure... you cannot take it for granted. And it's amazing to find myself in this Babel tower of New York, where you hear countless dialects, accents, and languages." And, of course, we spoke about my burning question: the Great Why of solo performance itself. While Sangare has no single answer, he does have a deep appreciation for the relationship between the audience and the lone presence on stage: "Solo theatre is like a first date. Which should be quite intimate, with a lot of trust, and very much subject to a certain chemistry. Sometimes it...doesn't work. But when it works, you can fall in love. Audiences come back, this season or next, to see a performer again and again, in different works."
In short, this eloquent and surprisingly easy-going man carries within him a regard for that distinctive, solo performance dynamic so assured, each year has seen an increase in scope, productions, and international participation. When I suggested that, maybe, his vision could easily carry to other great cities, Sangare revealed an almost boyish innocence and an actual eye twinkle. "Ah, now you are talking about my dream!"
The United Solo Theatre Festival continues through November 23.  For more information, visit https://unitedsolo.org/us/ufest/