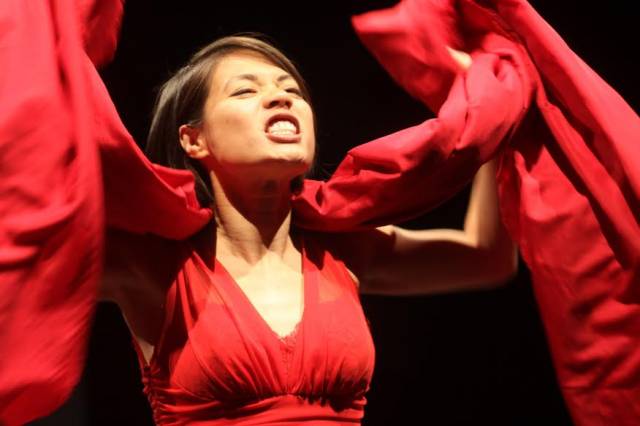 A few thousand years later, not a whole lot surpasses the Oresteia of Aeschylus in terms of good old-fashioned family dysfunction on an epic scale. The myriad conflicts of the House of Atreus do not ever die, the bloody ends of its primary members aside. Adultery, incest, betrayal, and - maybe most awful of all - indifference; it's all here, alive, and eternally relevant to anyone interested in primal human drama.
From this rich mine director Kiara Pipino and actress Missy Maramara extract and isolate Clytemnestra, wife of Agamemnon and sinner also much sinned against. She is telling her story to the Elders of Argos, awaiting sentencing for having provided her conquering hero of a husband with a bath not precisely relaxing, and for similarly swinging an axe on Cassandra, the war prize Agamemnon casually brings home. If you are expecting a blast of female outrage, you will be disappointed. There is some fury, but what you more get is a mesmerizing journey of discovery taken by the lady and inviting you along. Maramara is peasant and queen, all woman, all human, and pretty much wonderful. She pins you down with her story and you relish the captivity. And a large measure of this wonderfulness is owed to Diane Rayor's poetic fusion/translation of Aeschylus, O'Neill, and a few other tellers of the timeless tale. The language is gorgeous and takes you deep into the lady's soul, so much so that you shudder at her brief reference to accepting the sacrifice of her daughter by her husband: that is what he meant to her.
In brief, this is a Clytemnestra true to the power and dimension of the regal and the ordinary. Not incidentally, Maramara plies a strip of scarlet fabric expertly to create babies, her man, distant vistas, blood, and her own implacable stature. It is the visual translation of how she manipulates the beauty of the script, and I do believe I will be seeing this stunning performance in my mind for some time to come.