Gregg Daniel is revelatory in Roger Q. Mason's profound afterlife drama 'The Duat'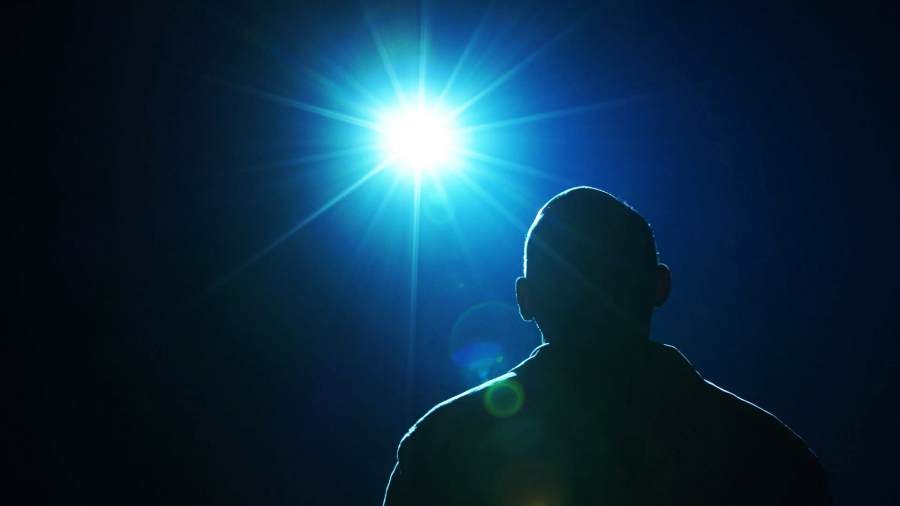 When a former FBI informant wakes up in the Egyptian afterlife, he faces a dire choice: unburden his heart by confessing his childhood traumas and guilty acts, or get devoured by a pack of hungry crocodiles, thereby ceasing to exist forever. Taking its title from the mythological Egyptian afterlife, Roger Q. Mason's one-man show The Duat, directed by Taibi Magar, stars Gregg Daniel as Cornelius Johnson: a recently deceased Black man who's struggled his whole life to believe that he is someone.
Ladies and gentlemen, it's beautiful. Daniel is the perfect performer for this transcendent journey that fuses spoken word, drum beats, and dance-like movement to tell the all-too common story of a man broken by his life. While the setting may be mystical, the piece itself is refreshingly grounded. Tightly focused on the main character (who, aside from percussionist David Leach, is in fact the only person on stage), The Duat is a close psychological portrait. Daniel does sometimes switch to playing other characters: Johnson's mother and father, grandmother, girlfriend, and, briefly, classmates. When he does, he inhabits them with equal fervor. But it's as Johnson himself that his performance is most forceful.
Compelled by Osiris and his crocodiles, Johnson reviews his life: from his father's untimely death waiting for a colored hospital bed, to his own involvement in the shooting of two Black Panther members at UCLA in 1969. Unwilling to confront the painful truth, he initially gives a false account of both events. He appeals to the Christian God, begging for a rescue; then, when it becomes clear God is not coming, to Osiris, demanding that the crocodiles eat him. At last, in desperation, Johnson confesses the truth: his father was an absent parent rushing to the arms of his mistress when his taxi crashed, and his mother abandoned him as a child. Later, in an attempt to earn some much-needed money, Johnson betrayed his own people. After confessing these ugly truths, he's certain his heart will be too heavy to ascend to Heaven.
But for all the guilt and tragedy, The Duat is a work of deep optimism--a testament that even after sin and suffering, there remains something immortal and indomitable in everyone. The script is poetic without being flowery, the dance-like movements expressing what words cannot in moments of great emotional power. There's a simple, earnest profundity about it that builds real emotional weight by the end (a revelatory ending of the kind writers dream about). Broken down as he is, it's only in unburdening his heart that Johnson reveals what was there all along beneath the psychological baggage of shame and regret: a light heart and the unequivocal declaration that he is someone after all.