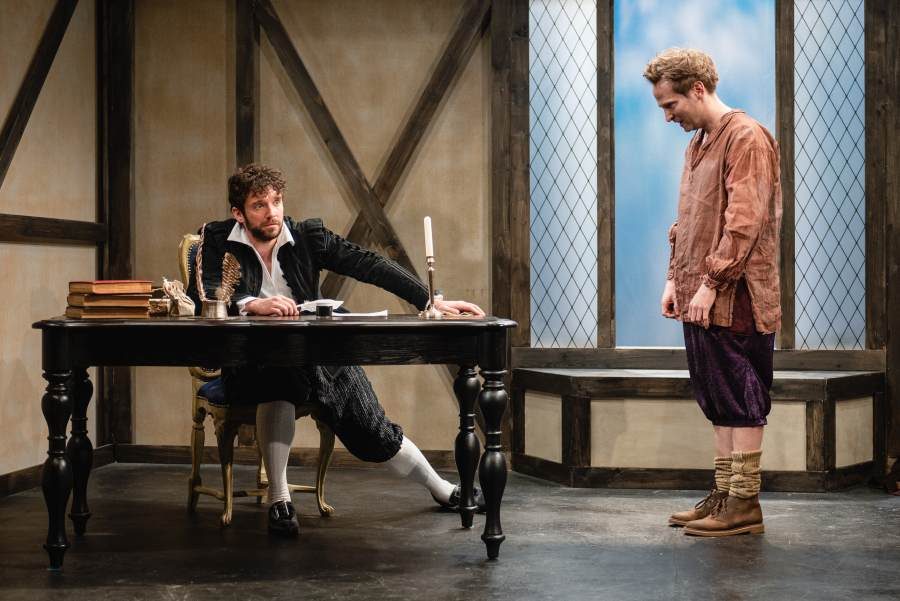 If you're a Shakespeare aficionado who wants to laugh out loud for two hours straight and doesn't mind a touch of bawdy humor, then Jane Anger is for you. The Jennifer Campos Production, currently playing at the New Ohio Theatre, reimagines what might have happened to William Shakespeare if, during that infamous plague year when he wrote King Lear, Anne Hathaway and the dark lady had stepped in (or more accurately, climbed in through the drain pipe) for a bit of revenge. Starring the wonderful Michael Urie as Shakespeare, Jane Anger is campy, anachronistic, and over-the-top. The acting is melodramatic, the script tongue-in-cheek. It's as if someone took a sledgehammer to the Bard while simultaneously poking fun at our collective pandemic experience. At times, it's sheer pandemonium. And it's absolutely fantastic.
That someone with the sledgehammer is Talene Monahan, who, in addition to writing the script, plays Anne Hathaway: Shakespeare's wife with abandonment issues. She's hysterical in the latter role, but in this top-notch cast of four (directed by Jess Chayes), there is no weak link. Amelia Workman is the canny and charismatic Jane Anger: a cunning woman who has her own reasons for trying to help Shakespeare finish King Lear. Ryan Spahn is a hoot as Francis, the bard's peasant companion in quarantine, simultaneously on a mission to launch his own theatre career. And Michael Urie, whom I doubt has ever given a dull performance in his life, hogs the stage as William Shakespeare: a horny, self-important drama queen suffering from a very bad case of writer's block.
When plague closes the theaters (again), Shakespeare finds himself stuck in quarantine with nothing to do and no one to talk to but the obsequious peasant Francis. As Francis suggests, it would be a great time to churn out another masterpiece. But the bard has writer's block, and can't seem to do anything but mope and lament while striking dramatic poses. That all changes when Jane Anger, alias the dark lady of the sonnets, arrives with a proposition: she'll cure his writer's block if he'll endorse her book. Shakespeare agrees, and things seem to be going well until Anne Hathaway, bent on finally catching up to her absentee husband, arrives to chide him for his negligence. Meanwhile, Francis is just hoping for a role in Shakespeare's now in-progress drama King Lear. It's all fun and games until, true to the conventions of Jacobean revenge plays, somebody loses an arm. Or two.
Peppered throughout with jokes destined to have Shakespeare scholars, medievalists, and theatre fans rolling in the aisles, Jane Anger also allows us to laugh at the current, anxious moment in which we find ourselves. While there is a worthy point to all the hilarity (it's inspired by a 16-century feminist pamphlet written by the real Jane Anger), this play functions best when approached as a zany comedy offering much needed relief for today's sometimes too-serious theatregoer.