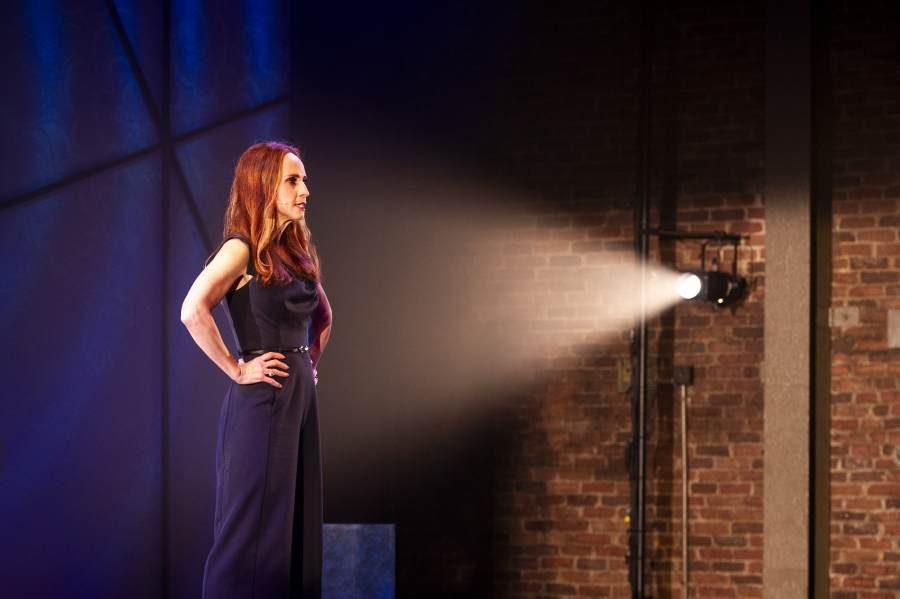 Anyone who's a fan of the Oxford comma has my approval, but even if Faith Salie hadn't mentioned this in her delightful show Approval Junkie, based on her memoir of the same name, her whip-smart jokes, engaging presence, and achingly beautiful turn of phrase would likely have endeared her to me anyway.
Onstage at Audible's Minetta Lane Theatre, Salie recounts her journey from an anorexic, approval-seeking high schooler in suburban Atlanta to a confident broadcaster and mother of two. That last point is most important. While Approval Junkie does feature some of her best--and worst--career moments (don't fact-check Bill O'Reilly and don't tell CBS viewers you're not a pet-person), the heart of this story is her hunger for motherhood and the eventual fulfillment it brings her. That turns what would otherwise be merely a clever, entertaining show into a truly meaningful tour de force.
Not that it's not entertaining. Salie's script is dripping with comic gold, polished by perfect delivery; her energy is contagious; and her dynamism keeps the performance from ever growing boring. In fact, I didn't want to leave when it was over.
Besides her powerful charisma, what helps keep this show engaging are the surprise stops pulled out by Salie and her creatives (Amanda Watkins directs). She's not just using the whole stage; she's using props, visuals, different chairs, mood music, and even her stage manager--who lends his voice to read an insulting (and terribly written) email sent to Salie by one of her less-than-impressed viewers. By the end of the show, Salie has become a sort of magician who keeps pulling tricks out of an invisible hat in an attempt to surprise and delight her audience. It worked on me.
But again, there's more to this heartfelt show than simple gimmicks. Salie allows herself to be vulnerable: admitting us into the grief of losing her mother, the frustration of not getting cast, the pain of a difficult divorce, and the despair of miscarriages. Her openness endears her because it reveals not just a quick-witted performer, but a flesh-and-blood woman with a huge, aching heart.
When an acting coach tells her she should have children because it would lend her a softness and beauty, Salie doesn't snicker. In fact, she readily admits that the woman is right. Having and raising children becomes the holy grail quest of her life. What amazed me was the way Salie presents herself as both a strong professional--intelligent, well-read, fiery--as well as a nurturing mother devoted to her children's well-being. In a world where so-called "traditional" values often get short shrift, I was moved by Salie's courage in embracing motherhood, and inspired by her firm grasp of two often opposing spheres.
"The way I found my voice was by listening," Salie tells us. In listening to her, we may find something too: the resolve to hold on to our dreams and the courage to be compassionate, even and perhaps most importantly to ourselves.