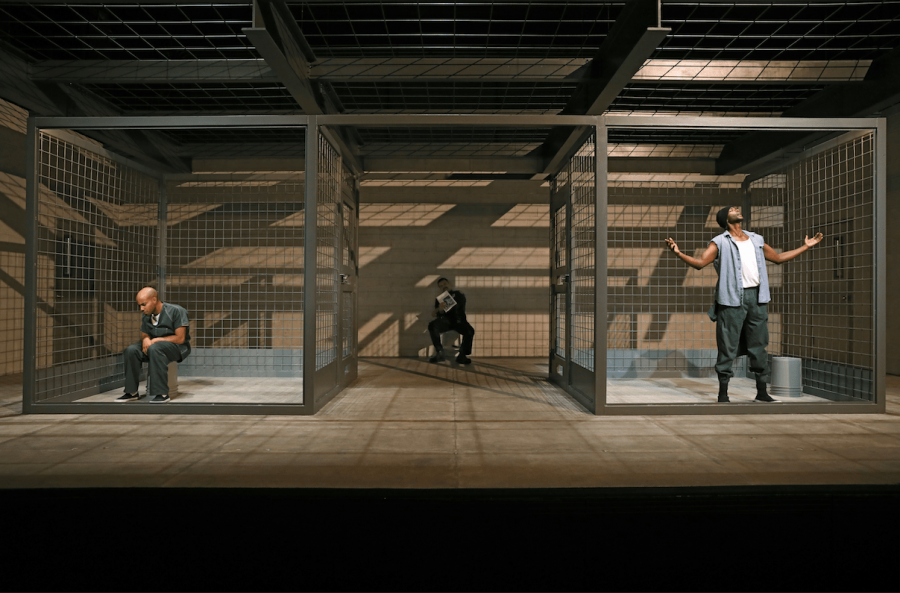 What if everything you believe is wrong? (I once asked this of very religious actress friend of mine.) What if there is no God? What if Jesus wasn't the Son of God? Her answer haunts me to this day. She looked me straight in the eye and said, "Then I have nothing. Nothing at all." The brilliance of Stephen Adly Guirgis' play Jesus Hopped the 'A' Train, playing now at Signature Theatre Center, stunned me for the exact same reason her rebuke did. It told me the unflinching truth. The genius at work here is that Guirgis' characters have nothing (and everything) to lose, and so, they argue brilliantly. They argue to the death.
The plot is very straight forward. At the play's opening we find Angel Cruz on his knees, attempting to pray. Angel's having trouble finding the right words. This is Guirgis' deftly comic reminder that we are entering a world of diminished capacity and education in which our characters struggle for survival and acceptance. Angel (played by the excellent Sean Carvajal) shot the man who he believes is the leader of a religious cult that took his friend from him. He's been imprisoned awaiting trial (and there's one more twist I won't give away). Angel has a good lawyer in Mary Jane Hanrahan (played by Stephanie DiMaggio with a fine combination of vulnerability and concern). Mary Jane is tough and smart and deeply affected by the sincerity of her client. Later, Angel meets the charismatic serial killer Lucius Jenkins, played with bellicose rage by Edi Gathegi.
There are two prison guards keeping watch, the likeable Charlie D'Amico (played by the equally likeable Erick Betancourt) and the dangerously unsupervised Valdez. Like any great archetype, Valdez, played with malevolent authority by Ricardo Chavira, resonates more deeply now that time has passed between the original production directed by the late, gifted Philip Seymour Hoffman, and this revival. Chavira's a terrific actor, his sinister and sacrilegious taunting of both Angel and Lucius throughout this taut two-act drama was a standout. We now know, thanks in part to Anna Deavere Smith's work in Notes from the Field, that the school-to-prison pipeline creates an almost inevitable path for young offenders. We now understand what Guirgis knew decades ago, that Angel's descent from loyal friend to the accused is an all too plausible reality for at risk youth. New York City can be hell on earth and Guirgis bears witness.
In confinement, Angel Cruz and Lucius Jenkins begin to argue the nature of God and Evil. Listen closely, dear reader, because here's where Guirgis captivates. Lucias, though he's a brutal serial killer, is certain he'll get to Heaven. Why? Because he admits his wrongs and accepts his responsibility. Lucius then convincingly debates our collective judgments against him. Make no mistake, we're on trial here as much as the defendants during the course of this compelling play. It's the nature of Lucius' crimes, hideous and tragic, that make his attempts to convert Angel (and possibly all of us) to a path of righteousness so astounding. Again, I don't want to give too much away here, it's tricky stuff to navigate, but this is a solid cast, now, after all the comings and goings of previews. Though it can be a bit of a shouting match at times, in what feels like a somewhat cavernous space, there's modulation here, too. In one angry outburst, Lucius asks, "Have you ever prayed for me?" (Angel hadn't. We hadn't.) You could have heard a pin drop. The self-reproach felt by the audience was palpable. In that one moment, Guirgis made us all human, together.
Jesus Hopped the 'A' Train has finally reached its intended destination at Signature, within a pristine and dynamic set by Riccardo Hernandez. Costume design by Dede M. Ayite and evocative lighting by Scott Zielinski sets time and place perfectly. All of this excellent work is well supported with precise and smooth direction by Mark Brokaw. Get a ticket, hop a train, see this remarkable production at Signature Theatre Center.