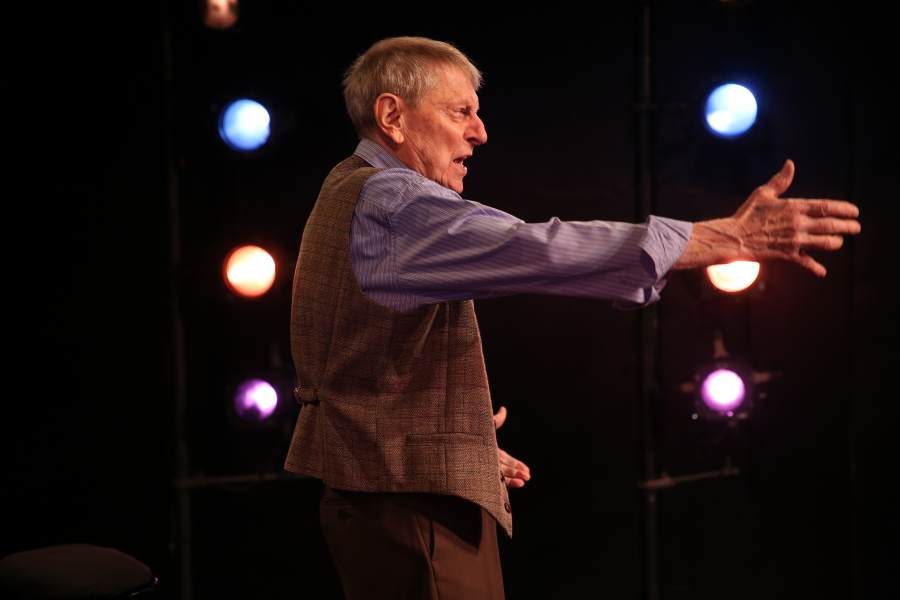 Full disclaimer: I am a John Cullum fan, so when I read that he was doing a one-man show tracing his long career, I looked forward to it.
Filmed earlier this year and recorded with pianist Julie McBride, the 80 - minute show featured the 91 year old actor on a stool on a bare stage with no audience. Cullum recounted some of the highlights of his illustrious career and sang some of the songs he performed on Broadway.
His tale began when he arrived in NY from Knoxville,TN in 1956. Determined to become an actor, he came with no musical theater experience but had two letters of introduction. Cullum claimed that he became successful through luck and coincidence, yet some of the anecdotes he related suggest that he made his own luck. His first letter brought him to the Phoenix Rep company where he was too short to be an extra. So he volunteered to help in the office which days later led to his first role on stage as a spear carrier in St. Joan.
What often makes these shows fun are the behind-the scenes stories, but Cullum's anecdotes offer little insight, except for a brief one about Madeline Kahn. They appeared together in On The Twentieth Century but she felt her song was too high.So Kahn transposed the music, much to the composer's displeasure. The singer left the show shortly afterwards.
Cullum talks about appearing in Camelot with Richard Burton, Robert Goulet and Julie Andrews but we learn nothing new.
The actor has shown versatility in his roles. He got the lead in Shenandoah at Goodspeed Opera House with the understanding that Jack Palance would take over when the show moved to Broadway. Fortunately, Cullum stayed with the play in New York and went on to win his first Tony for the role. His second Tony came for On the Twentieth Century in a very different sort of role.
The dialogue is often cliched but Cullum was so personable, it didn't matter. He's easygoing and his performance is gentle. Even when he's angry, he's pleasant. He discussed his indignation at getting the script to Urinetown "I got two Tonys' and my agent sent me this" until his wife laughed at the script, making him realize how clever it was.
Naturally Cullum's voice showed signs of age, a bit gravely and unsteady. Yet he sang with energy, performing snippets of songs he presented on the stage as well as others he 'just liked.'
A viewer's reaction to John Cullum: An Accidental Star is all about perspective. If you are not familiar with him, you won't get the true sense of the performer. If you ever were a fan, you will be impressed by his long career and his versatility. And by his age!