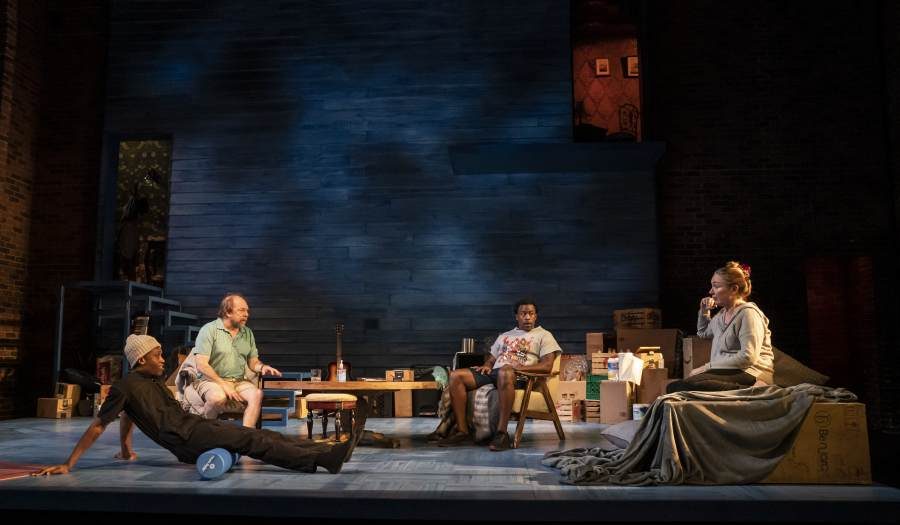 A viewer should be prepared for intense theater when attending a Eugene O'Neill play. If the show is "Long Day's Journey into Night," she should be ready for a lengthy assault on her emotions. The original show ran close to four hours and had three intermissions. A trimmer version, pared down to an hour and 50 minutes by director Robert O'Hara (Slave Play) is now playing at at the Minetta Lane Theater in a limited run. Although it is shorter, the story still resonates with anguish and pain.
The autobiographical Eugene O'Neill play is set in 1912, but the new version has been subtly modernized. Before the actors enter, a large TV monitor on stage airs recent CNN clips. When Mary (Elizabeth Marvel) enters, she uses a remote to turn it off. Later both of her sons spend time on their cell phones. In the original, Mary is addicted to morphine but this adaptation suggests that her addiction is to heroin as we can see her tie a band around her arm. Younger son Edmund (Ato Blankson Wood) has tuberculosis in O'Neill's play, but O'Hara's Edmund may be suffering from COVID.
The changes are subtle, and they make little difference to the play. The Tyrones are a truly dysfunctional family. While they profess love for each other, they also are angry and resentful and sometimes hate one another. Each expresses frustration and blames someone else for their individual failures. Mary recalls her high school days, noting that she could have been a concert pianist but she fell in love with James, an actor. Jamey, the eldest son, (Jason Bowen) has a love/hate relationship with his younger brother, at one point blaming him for their mother's addiction. At another point, he blames his father's penurious ways for Mary's addiction. If James had not been a skinflint and spent money on a real doctor for Mary after Edmund's birth, she would never have become an addict.
The greatest irony of the play is that while the three men moan Mary's dependency on drugs, they are incessantly drinking and draining endless bottles of whiskey. They obviously are alcoholics.
Set in the Tyrone home in Connecticut, the action takes place in a day; one long, long day and is marked by a digital clock display. The family is totally isolated. It might remind viewers of the quarantine many experienced in the heart of the covid epidemic.
The acting is fine, especially Elizabeth Marvel as Mary who goes from doting mother to wistful high school girl in a matter of seconds. When James Tyrone (Bill Camp) playfully tickles his wife (Marvel) while she's doing yoga, the audience smiles at the intimacy. Not only are the characters man and wife, so are the actors. It's easy to accept the love that Tyrone expresses for his wife, especially when he urges his sons to shelter and protect their mother from getting upset. Their natural physicality lends truth to the love the couple professes to one another.
While the men all leave the living room at some point, Mary never goes out of the house. She goes upstairs to 'take a nap," a euphemism for her injecting herself with drugs. Although she is blocked from view by a wall, we see what appears to be the x-ray of her figure climbing the steps.
My colleague who'd never seen the original mused that he couldn't imagine what was missing. Although I`ve seen the original in its entirety, I, too, was hard pressed to recall what was missing. However, the play still felt long. It became especially tedious especially in the last half hour of the play. Each of the four actors has a dialogue with one other in a series of dyads.
"Long Day's Journey Into Night is an exhausting play,whether it's two or four hours. I wonder if the actors must have felt as drained as the audience did. At least it only ran 110 minutes.