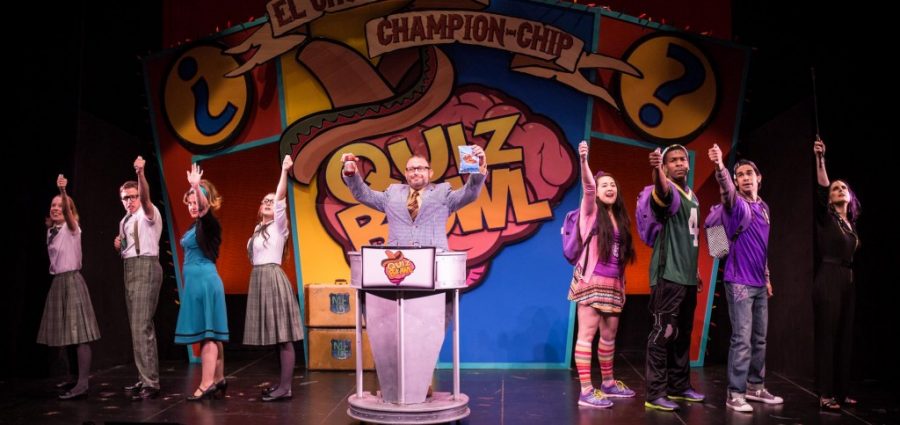 About midway through the opening number of Academia Nuts, you will think: "It's A Chorus Line for nerds." Here's a collective of kids hell-bent on giving their all to win, not a dancing gig, but a scholarship; surely the songs and confessions of personal anguish and longing can't be long off. You will be a little right but mostly wrong, for what ensues is instead more a rollicking and sometimes surreal explosion of desperation and fun, geek expertise and passion, and quiz championship frenzy. The Chorus Line connection only returns when you feel, 110 minutes or so later, that it's all over too soon.
In a nutshell (cherish the pun, if you please), Julian Blackmore's score, Becca Anderson's and Dan Marshall's book and lyrics, enough energy to shame the Manhattan Project, and a cheesy set combine to offer an other-worldly blast of real musical comedy. It's all about the competition, and the teeth-clenched rivalry between three intensely Baptist kids and three of less-Baptist leanings, with plenty of interpersonal sturm und drang to heat up the proceedings. There are stand-out performances here: Alyse Alan Louis, who appears to weigh 15 pounds, is a giant of face, heart, and voice. Will Roland and Melody Madarasz as John and Mary are as ideal as two tortured second bananas will ever be on a stage. Todd Cerveris's gamemaster is off by a few yards -- the timing feels a little wrong -- as is Stephanie D'Abruzzo's dominatrix of a coach, who really needs to lose the riding crop. But to miss Jennifer Simard's coach/mother/Medea is to do the unforgivable. Droll, deadpan, sly, a killer, Ms. Simard essentially straps the show on her back and runs away with it; her Second Act solo is enough to make you believe in miracles (and you don't need to be Baptist). Allow a personal interjection here: this reviewer has not been so impressed since the Mama Rose of Lansbury, who probably got paid a lot more, too. It is a triumph, elevating Academia Nuts from solidly good show to a joy.
Performances of Academia Nuts continue through July 13. Check www.nymf.org for details on Academia Nuts and other productions.