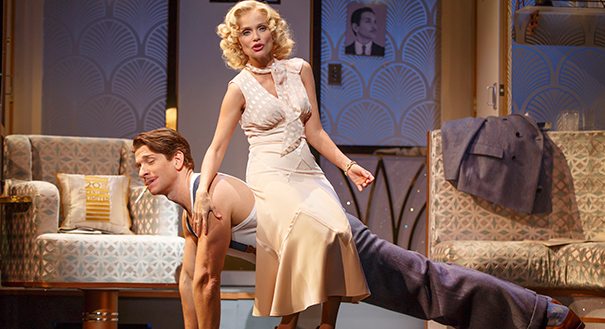 The Roundabout Theatre revival of On the Twentieth Century is the epitome of the adage "they don't make them like they used to", from the moment you take your seat in the American Airlines Theatre and are faced with an imposing metal-like curtain, brimming with Art Deco designs, it's obvious that the company went all out in putting together this star-studded show. The musical with lyrics by Adolph Green & Betty Comden and music by Cy Coleman was based on a 1932 play by Ben Hecht and Charles McArthur, which seems to have been made for the purpose of having people move on from the Great Depression. It tells a story filled with glamour, rags to riches twists, and it even goes as far as making frivolity endearing, perhaps the ultimate way of making an entire society try to forget about extreme poverty.
Set in the sleek locomotive of the title, itself a commentary on how much hope was placed in technology during the 1900s, we meet a motley crew of characters all of whom are trying to outdo the rest, in order to get away with what they wish for. At the center of it all is movie star Lily Garland (Kristin Chenoweth), a Broadway legend who recently made her transition to motion pictures which anointed her with the Academy Award for Best Actress, a recognition her former lover and employer, producer Oscar Jaffee (Peter Gallagher) thinks is both beneath her, and also too much, depending on where his swinging moods stand at the moment when he's asked.
Jaffee not only gave Garland her greatest parts, he literally made her, as he took her from being a plain piano accompanist, to becoming one of the most celebrated stars of the stage. Needless to say so, their relationship deteriorated, and by the time we meet Oscar, he's desperate for a hit, and believes he can recruit Lily to star in his next show, which hasn't even been written. As the Twentieth Century makes its way to New York City from Chicago, Oscar realizes he has less than a day to make his plans come true and save his career. Of course hilarity ensues, as the former lovers reminisce about the past and contemplate the idea of a future together despite their deep dislike of each other. As far as commentaries on the superficiality of show business go, On the Twentieth Century is far from being subtle, but boy does it have fun making its point.
As directed by Scott Ellis, the show takes its time finding its pace, in fact the first few numbers drag a bit and feel to lack spontaneity, but if this show should be commended for something it's for its pitch perfect casting, since things get moving along deliciously the second Chenoweth makes her appearance. It makes sense that we first see her emerging from the audience, flustered and unprepared, a few minutes later, thanks to the magic of William Ivey Long's costumes, she's been transformed into a feisty vixen. Her first big number, "Veronique" in which she plays a woman responsible for causing the Franco-Prussian War, is a grand set-piece which sets the tone for the rest of the show, as it displays Jaffee's over the top directorial flourishes - a full scale Arc de Triomphe and baguettes galore abound in the background - and showcase Lily's need to hog the spotlight. We understand from the start why their relationship didn't work, even if we see the spark they have together.
Chenoweth turns Lily into the ultimate diva, a moody, spoiled brat, whose talent is matched only by her insecurities. The actress not only gets to show off her impressive pipes, she also proves to be a supreme comedic genius, able to improve an already flawless scene, with a mere reaction. Andy Karl plays her on and off lover, a narcissist beefcake actor called Bruce Granit, who flexes his biceps on command, and who pastes glossy headshots on the wall every time he exits the room, as to not have people forget about him. His performance is a delight to watch, and his chemistry with Chenoweth is absolutely sizzling! Watching him use her as weights, only to then see him barking while she feeds him treats is sinfully exciting.
Also featured in the cast is the extraordinary Mary Louise Wilson, playing wealthy widow Letitia Primrose, who despite her ultra conservative values, might very well represent Oscar's last hope of finding someone to finance his show. The trio of Chenoweth, Karl and Wilson justify the admission price, but the show is not without its flaws, most obvious of all Gallagher, who despite his talents, doesn't seem to be on the same wavelength as the other players. He plays his character with an affected manner that would seem more at home in a droll, darker British play, while the others are delivering pure Lubitsch/Hawks/Cukor screwball.
The show also features fabulous work from four ensemble members (Drew King, Rick Faugno, Richard Diaz Yoder and Phillip Attmore) who play the porters and steal the scene more than once. Their tap dancing-infused "Life is Like a Train" makes for one of the most energetic numbers in any recent Broadway show, and their appearance in the show's best number, "She's a Nut!", is deserving of a standing ovation. It's with these four that the show does what it does best, it makes you completely forget about the world outside for a few minutes, and while life is indeed nothing like a train, you can't help but want to chug along with them.