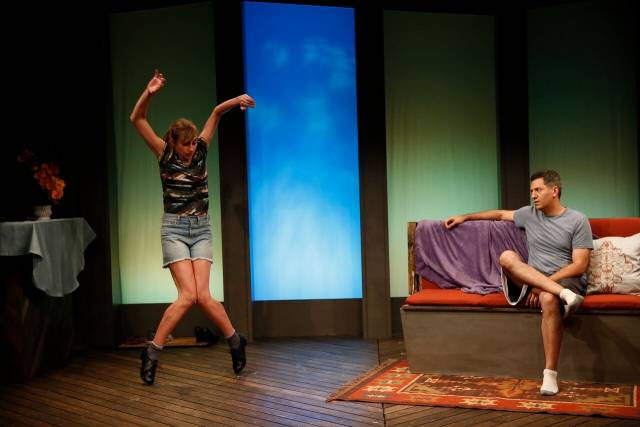 Series B of the 2015 Summer Shorts at 59E59 includes three pieces of premiere pieces that vary significantly in tone and type but somehow manage to create something resembling a complete evening of theater. The three new shorts are: Unstuck by Lucy Thurber, Built by Robert O'Hara and Love Letters to a Dictator by Stella Fawn Ragsdale.
The first of the shorts, Unstuck, is a triptych about a day in the life of Pete (Alfredo Narciso). Pete is stuck, it's his birthday, and he's spending it with three women who play very different roles in his life (and, today, in his living room). The first is his terribly-tapdancing sister Jackie (Lauren Blumenfeld); the second is a singing, meditating, self-involved acquaintance named Sara (Carmen Zilles). Both serve to conjure knowing, condescending laughter from the audience: We are meant to empathize with Pete on his frustrating birthday, even as he spends it glued to his couch in shorts and socks. But then Deirdre (KK Moggie), his warm, attractive girlfriend returns home from work and a more meaningful conversation finally ensues. Pete and Deirdre avoid the narcissistic (and sometimes literal) meditations of Jackie and Sara and instead engage in a dual meditation on love, loyalty and togetherness. It's a strangely welcome uplifting finale, but it takes two long, sometimes aimless asides before Deirdre can even begin to get Pete unstuck.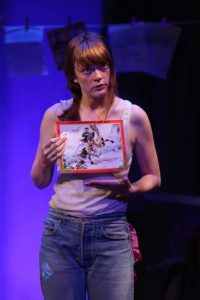 The second short is Built. Its vague initial setup quickly gives way to a clear power struggle: Mason (Justin Bernegger), a male prostitute, has been hired by Mrs. Back (Merritt Janson), the social sciences teacher who had an ongoing affair with Mason when he was just fifteen years old. Built is the kind of play that is propelled by the discomfort it spreads, and for most of the play, playwright Robert O'Hara (who also directed) recognizes and exploits this quality of his writing. There are a few seemingly sloppy story revelations, but all of the plot progressions eventually help to recolor moral information that would normally be viewed in black and white. O'Hara reminds us he is a powerful storyteller who, with Built, manages to have his audience situated in a no-man's land between cringing with half-covered ears and straining to make out every next line.
Wrapping up the B Series is the quite literally titled Love Letters to a Dictator. In it, Stella (Colby Minifie), the sole character (who takes her name from the playwright herself), reads a series of chronological letters she has penned to Kim Jong-Il towards the end of his life. The language – as well as Logan Vaughan's staging – is poetic and symbolic. And this makes sense, as the fictionalized Stella is a New York-via-Tennessee poet hopeful. But sometimes the rosiness of the letters stalls Love's forward motion (which is already in short supply in a play mostly stripped of theatricality by its creative constructs). There is an interesting hint at Stella's empathetic recognition of isolation in her favorite dictator's eyes, but that soon dissolves as she learns more about the horrific state of the nation he presides over. Love Letters to a Dictator is configured intriguingly, but by its close it forces us to wonder how interchangeable the recipient of Stella's poetic inquiries might be.