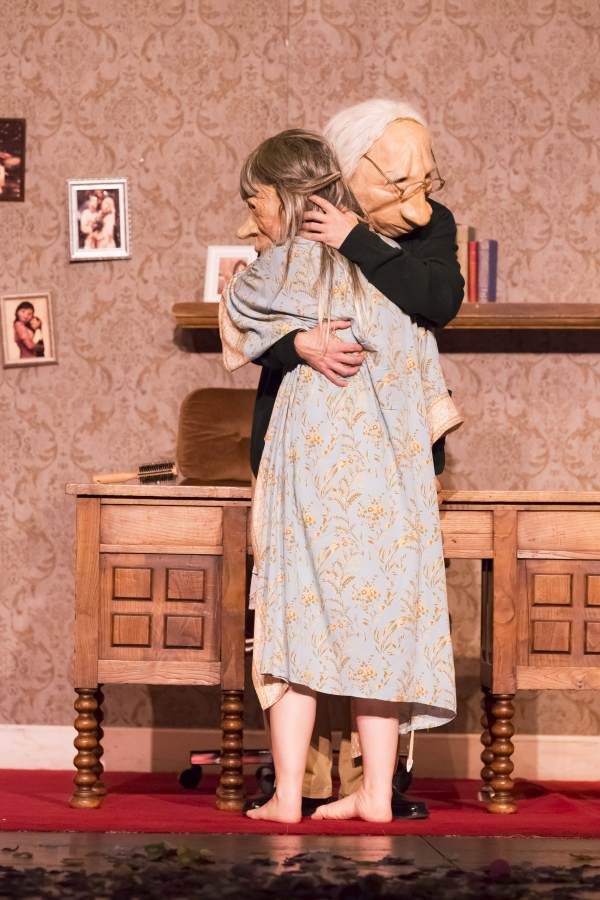 From time to time, to quote my favorite song from Dear Evan Hansen, "words fail." At the moment, words fail as I search for a way to describe (and adequately praise) a show whose gentle beauty and emotional force defy description, and which, ironically, does not contain a single spoken word. 
 André & Dorine, the touring production from Spain's acclaimed Kulunka Teatro, which runs at the Theater at St. Clement's through May 29, does not mince words. In fact, it uses none at all. Three actors (José Dault, Garbiñe Insausti, and Edu Cárcamo) tell this story of an elderly couple whose lives are rocked by dementia purely through movement. Faces covered by giant, hollow-eyed masks, they aren't even allowed the luxury of facial expressions. Music, objects, and above all movement become the new primary modes of storytelling. Slapstick and tight gestures convey the awkwardness of a first romance; slow, faltering steps express old age and memory loss; cello chords become birthing contractions; and a tiny red piece of paper symbolizes a lifetime of love.
Directed by Iñaki Rikarte, the show is simple and slow moving, never dull. In the first scene, an old married couple (presumably André and Dorine, though their names are never used), engage in a friendly war. While André punches away at his typewriter, Dorine interrupts with loud bursts from her cello. In revenge, he taps a pen to throw off her timekeeping. But when the doctor gives Dorine a troubling diagnosis, it's clear that this carefree way of life can't last forever. As Dorine slowly, then rapidly plunges deeper into herself, we see flashbacks to the couple's first meeting and early life together. Eventually, the pair can do little more than dance together in the dark, but they do. 
Oddly enough, though these characters, in oversized masks and comparatively small bodies, resemble caricatures more than actual humans, they touched my human heart more deeply than many a show I've seen starring more human-looking, word-encumbered characters. And to judge from the loud sniffles I heard on every side as I sobbed into my mask, I was not alone. (And yes, I am crying again as I write this.)
The absence of words, it turns out, clears the stage for something both lighter and heftier. In André & Dorine, moments of delightful, classic-feeling comedy alternate with scenes of great emotional gravity that dialogue would only cheapen. Precisely because no words are used, the inexpressible can be expressed: the indescribable depth of love and devotion that stems from the shared experience of two people who have built a life together, and the unutterable grief that comes when one of the two begins to mentally withdraw.
Hollow-eyed, blank-faced, dancing through love and grief, André and Dorine embody the words of another favorite (and recently much-staged) play of mine: "There comes one moment, once—and God help those who pass that moment by!—when Beauty stands looking into the soul with grave, sweet eyes that sicken at pretty words!" Grave, sweet, and beautiful, André & Dorine represents all I hope the future of theatre can be, and is one show that should not be missed.