'I Know Why the Caged Bird Sings' gets its first stage adaptation for young audiences—and it's breathtaking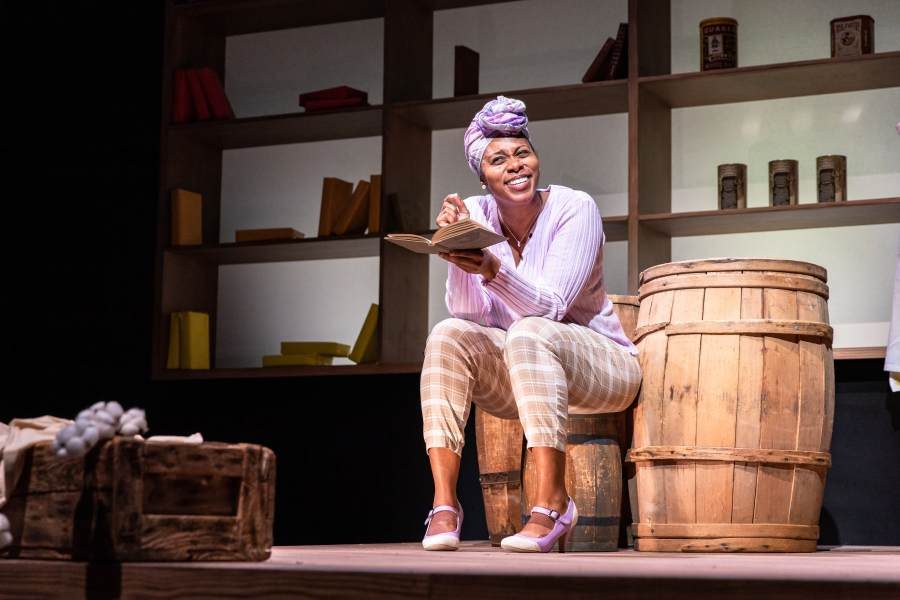 Maya Angelou's 1969 memoir I Know Why the Caged Bird Sings has already been adapted for both film and stage, but New York City Children's Theater's world-premiere production at Theatre Row is the first stage adaptation for young audiences. And it's positively wonderful.
You don't have to be a member of that young audience to enjoy it, though. With a script taken directly from Angelou's text (courtesy of Idris Goodwin and Janna Segal), it's certainly not dumbed down or overly sanitized. In fact, it even comes with a content warning, though its triggering content is still relatively tame. Directed by Khalis Davis, I Know Why the Caged Bird Sings is lyrical, powerful, and deeply engaging: a beautiful introduction and/or tribute to Maya Angelou's groundbreaking work.
Much of the credit for this goes to Cherrye J. Davis, who, in just one hour, embodies Angelou's boundless energy and peoples the stage with characters both loveable and laughable. As Angelou, Davis recalls the day she first arrived in Stamps, Arkansas at a young age after her parents separated. She recounts stories of her grandmother--who owned the general store that serves as the production's backdrop--her brother, her crippled uncle, the woman who fostered her love of poetry, the poor white children who lived nearby, and others. Her carefree childhood jars to a halt when her absentee father visits and takes Angelou to live with her mother. After the trauma of being raped by her mother's boyfriend, Angelou doesn't speak for a year. Eventually she returns to Stamps, where Mrs. Flowers, a wealthy Black woman, takes an interest in Angelou and, by encouraging her to memorize poetry, finally brings her out of her shell.
Clearly, I Know Why the Caged Bird Sings deals with heavy subject matter: parental neglect, child rape, poverty, racism. In one taut scene, Angelou's uncle hides in a box of potatoes and onions to evade the Ku Klux Klan. In another equally tense moment, a group of uncouth white trash children gang up on her grandmother. But while these matters are never glossed over, the overarching mood is not one of despair or anger. Rather, as Angelou reviews her past, both the good and the bad, she savors memories of her grandmother's strength, her brother's beauty, Mrs. Flowers' kindness, her own early passion for Shakespeare, and the excitement of listening to a boxing match on the radio--in a packed general store, with the sound all the way up so people on the porch can hear.
Without relinquishing the gravity required by the play's darker moments, Davis gives a performance full of youthful joy and profound love. Inhabiting the stage with as much force as grace, she guides us on an emotionally resonant journey through one woman's early memories. In doing so, she creates a poignant if imperfect world: a place worth living in for the courage and strength of good people, for the intransigent beauty of relationships, and for the chance to make everything a little better.