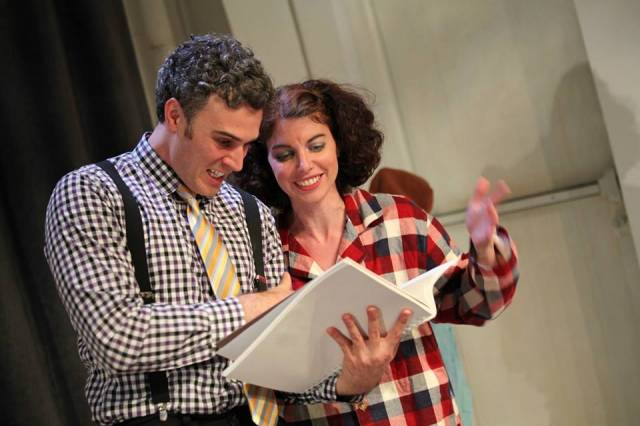 Philip Barry's 1932 comedy The Animal Kingdom — revived by the Hunger & Thirst Theatre Collective and directed by Jacob Titus — is less well known than Barry's Holiday (1928) and The Philadelphia Story (1939), both of which became film vehicles for Katharine Hepburn. The Animal Kingdom boasts a robust, sparkling scenario focusing on Tom Collier (Jordan Kaplan), an heir to a fortune who, when first seen, is about to propose marriage to the sensible and respectable Cecelia Henry (Kelsey Didion). It's early in The Great Depression and money is on every New Yorker's mind.
Literary-minded Tom, however, has long been involved with a group of artistic types: writer Joe (Neal Tucker), violinist Franc (Britannie Bond), and — most significantly — an illustrator and aspiring painter named Daisy Sage (Patricia Lynn). Tom and free-spirited Daisy were once lovers, but their romance has lately cooled. Once betrothed to Cecelia, however, Tom realizes the depth of his feelings for Daisy. "It's hard to explain what there has been between us," Tom says of his and Daisy's relationship. "I don't believe it's ever existed before on land or on sea." With that mindset, how can there not be rocky times ahead in the marriage with Cecelia? Barry seems to ask whether you can successfully be married to someone when somebody else is your soulmate.
This production is a barebones staging that calls on the audience's imagination to fill in the details of the settings — Tom's Connecticut country home and Daisy's Murray Hill flat. That would be no great obstacle were the actors' performances richer in detail and believability. Most members of the cast of nine have found the rhythm of their characters' speech and movement, yet wear their characterizations as if they were stiff new shoes rather than comfortable, well-worn slippers.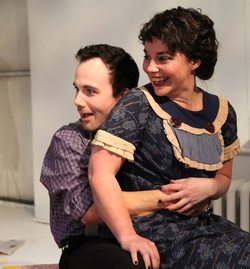 There are exceptions. Lynn plays Daisy with likable tomboyish verve. (She wears bohemian-chic trousers at one point that call to mind Kate Hepburn herself.) Lynn has one tirade — in a scene in which Tom levels with Daisy about the inferiority of her paintings — that is especially entertaining.
Jonathan Horvath effectively projects the wounded ego of Owen Arthur, a former flame of Cecelia's. And Mary C. Davis gives an energetic, fully realized, and funny performance as Cecelia's confidante, the excitable Grace Macomber, Davis earns the evening's biggest laugh with five words: "I wish I were subtle."
Peculiar acting and directorial choices prove distracting. Sometimes the actors rely on volume to suggest displeasure when a quietly terse attitude would be more potent and — to use Grace's word — subtle. And why do the men wear formal attire on less-than-formal occasions—including at the breakfast table on the morning following a boozy party? Even if you hadn't been abed, wouldn't your tie be askew or something?
Still, the production suggests that The Animal Kingdom retains relevance for 2015 audiences. When it comes to mating season, at least some of 1932's laws of the jungle are still on the books. And some critters still hope to flout them.