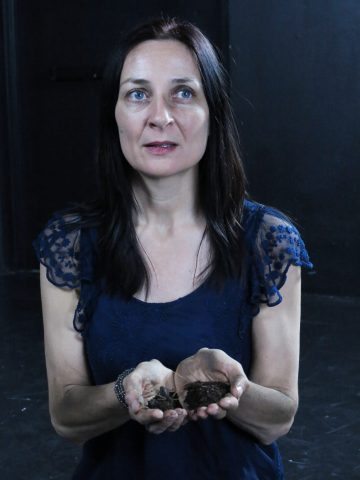 Jean Anouilh's Antigone is less widely known than Sophocles' Antigone. But Anouilh's "adaptation" of the classic Greek tragedy is an important work in itself. Written by a Frenchman during Nazi occupation of France, Anouilh's Antigone is in some ways more dynamic and accessible than Sophocles', and it has become a landmark of protest theatre.
It's Anouilh's Antigone that Fusion Theatre has chosen to perform this May in the Studio Theatre at Theatre Row. Under the direction of Eilin O'Dea (who also plays the title role), Fusion Theatre brings Antigone to life like never before through their unique blend of dialogue and classic opera.
The acting is impressive on all fronts, especially in sixteen-year-old Igby Rigney, who plays Creon's Page with surprising competence for someone so young. But the show as a whole belongs to Eilin O'Dea's Antigone and Paul Goodwin Groen's Creon: two larger than life characters whose force and passion carry the play along from start to finish.
O'Dea's Irish accent is the perfect addition to her characterization of Antigone: the stubborn heroine who defies the king and submits to a death sentence merely to give her brother's corpse a proper religious burial. O'Dea plays Antigone as a strong-willed young woman who always knows she's in the right and listens to arguments with a pitiful half-smile on her face. Since the Irish have a long history of rebellion, O'Dea's nationality lends another dimension to the role and plays on the character in interesting ways.
Paul Goodwin Groen's Creon is at least a match for O'Dea's Antigone, however. In fact, watching Groen play the conflicted ruler of Thebes, I was reminded that the original story is more about Creon than it is about Antigone. And, whether due to the playwright's intention, my own bias, or just Groen's superb acting (I suspect the latter), I found my sympathies residing with King Creon more than with Antigone. Though I can't help admiring Antigone's resolve and stubborn defiance, I'm still not sure why she did it. But I understand Creon's reasoning perfectly; and I don't know that he could have acted any differently than he did.
O'Dea founded Fusion Theatre with the design to fuse classic plays with classic opera arias. While I'm a firm believer in the power of music to enhance a story, I couldn't help feeling that the opera didn't really jive with the rest of the play. This wasn't because the singers couldn't pull it off - on the contrary, there were some outstanding performances - but for whatever reason, the production felt a little disjointed, and the transitions to opera from the script seemed a little awkward.
That being said, this sense of disjointedness was the only serious flaw I found in the play, as the acting, singing, and staging were all exceptionally well done. All in all, this is an Antigone you won't soon forget.