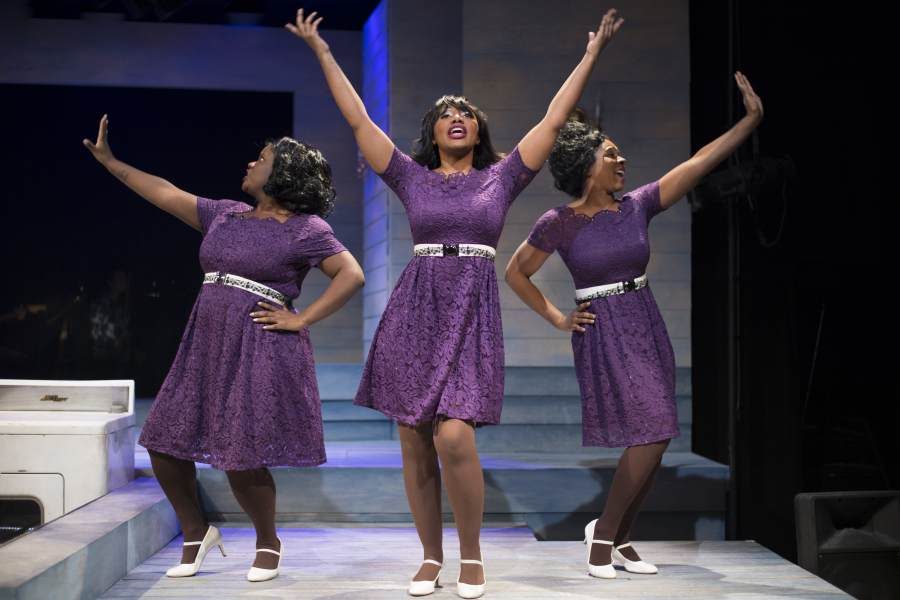 If you missed the Tony nominated and Olivier Award winning Caroline, or Change when it was in New York several years ago, I have good news: there's a fantastic production currently running in Astoria. In the capable hands of the Astoria Performing Arts Center (and under the direction of Dev Bondarin) Tony Kushner's and Jeanine Tesori's musical is a stirring tour de force.
"Nothing happen underground in Louisiana, cause there ain't no underground in Louisiana. There is only underwater."
So sings Caroline Thibodeaux in the show's opening number. Nevertheless, Caroline, a black woman and single mother of four, works underground every day in the Gellman's basement. The year is 1963, and change is in the air.
There's also change in the basement where Caroline does laundry. Literally. 8-year-old Noah Gellman keeps leaving change in his pockets, and in her desperate attempts to get him to stop, Noah's stepmother Rose tells Caroline to keep any loose coins she finds while doing laundry.
Meanwhile, beneath this surface plot, there are other storm clouds brewing: JFK's assassination and Martin Luther King's nonviolent protests. Add to this issues that span time and place: a man's grief over the loss of his wife, a stepmother's attempts to connect with her stepson, a teenager's defiance in the face of injustice, and a single mother's struggle to provide for her children at a high personal cost.
But Caroline, or Change isn't simply another historical civil rights drama. The audience is immersed in Caroline's daily world as the washer, dryer, radio, bus and even the moon all become personified (as in, there's an actor playing the washer and another playing the dryer, and so on). Besides, Jeanine Tesori's soulful yet playful score, matched to Tony Kushner's perfectly crafted lyrics, bring a deep power and resonance to Caroline's story.
It helps that LaDonna Burns, as Caroline, can sing that score with a vengeance, displaying powerhouse vocals as well as sensitive acting. Despite the fact that the show has played on Broadway and the West End, it's hard to imagine a better actress in the role.
As Caroline's daughter Emmie, Sharae Moultrie is charmingly headstrong, and as Noah Gellman, Sabatino Cruz is quite frankly adorable. Lauren Singerman's Rose Stopnick Gellman--Noah's stepmother--is deliciously out of her depth. (Singerman, of course, never is.) Meanwhile, the appliances are delightful, and while a good deal of credit for this can be put down to great acting and singing, it's also worth acknowledging the spot-on costuming and choreography (by Marissa L. Menezes and Kemar Jewel, respectively).
Since Caroline, or Change is a musical that deserves more attention, it's heartening to see it performed with such finesse by a regional theatre company--and that APAC performs this nuanced work with such finesse is a testament to the power of their storytelling. Even if you're not a Queens resident, it's well worth making the trip simply for this gorgeous production.