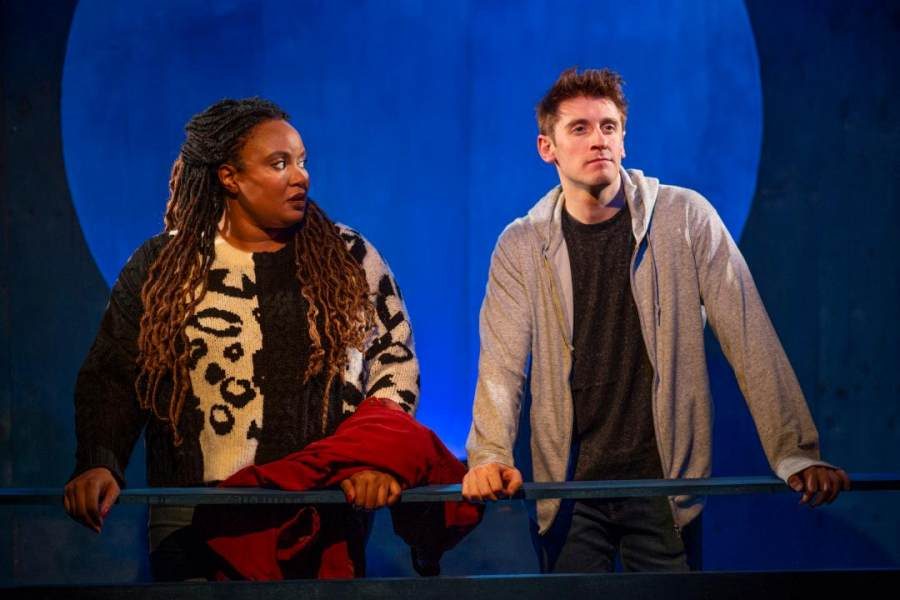 Are there warning signs? Does it take a certain strength to go through with it (or not go through with it)? Afterward, how do those left behind cope with what has happened?
These are just a few of the questions Charly Evon Simpson poses in her play Jump, which receives its New York premiere in a thought-provoking performance by Astoria Performing Arts Center. At a pop-up location at 28-21 Steinway, Astoria, Arpita Mukherjee directs a four-person cast in a story of family, trauma, and unexpected friendship.
Kelechi Ezie is Fay, a young adult who's recently lost her mother to cancer and is slowly losing her father to alcohol. When her father (played by Dathan B. Williams) summons Fay and her older sister Judy (Natasha Hakata) to the now vacant family home in order to go through their things before he sells the house, painful memories return and old tensions rise anew. Troubled by these and the vague feeling that she may be losing her mind, Fay seeks solace on the bridge her mother used to bring her to as a child. There she meets a young grad student named Hopkins (Alex J. Gould) and an unlikely friendship blossoms.
But both her family members and her new friend are battling their own demons, and Fay's vague worries about whether or not she's going crazy are soon swept beneath the current of weightier events.
Jump takes a thorough, contemplative look at the act of suicide and the many questions surrounding it. The material is heavy, but strange to say, it's not a complete downer. Such is the strength of Simpson's script, which varies light and dark moments, laughter and tears and even an impromptu dance party performed by two strangers to Queen on a bridge, that a balanced picture emerges of human life in all its joy, heartache, surprise, and shock.
Alex J. Gould gives perhaps the most nuanced performance as a man contemplating suicide but held back for some reason he can't articulate. His delivery is natural but loaded, a ready-to-burst-at-any-moment cloud hanging just over his head.
But the other cast members also give perceptive performances. When Kelechi Ezie's Fay gives full vent to her emotions, the effect is devastating. And there's something just a little off about Natasha Hakata's Judy, who manifests her despair in barley noticeable moments between conversations.
With thoughtful pacing and some (intentional) confusion, time becomes a tricky thing. We're not always sure which scenes follow each other chronologically, if what we're seeing has already happened, has yet to happen, or is actually happening at all. It's perhaps the play's most striking theme, hinting at the way traumatic events play with our minds and memories.