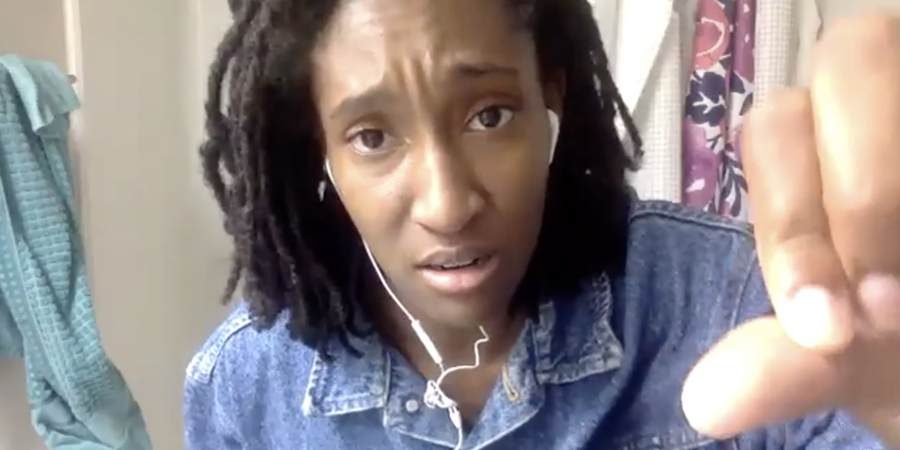 "Loneliness...is that a sin? It feels like one."
Eden Theater Company's third and final installment of The Room Plays, titled The Bathroom Plays, takes a penetrating look at the seclusion and loss inherent in quarantine. With clever scripts and honest acting that hits home, these three one-acts somehow manage to be both fun and tragic, playful and serious.
Nearly six months into this pandemic, most of us can probably relate to what the characters in these pieces experience: needing to get away from partners or family members, losing and grieving in a topsy-turvy world, and questioning reality in an effort to find meaning.
Can external events destroy relationships? Or does constant togetherness simply reveal the problems that were there all along? In Monogamous Animals, written by Brennan Vickery and directed by Alex Pepperman, two friends, video chatting from their bathrooms, find themselves in a paradoxical dilemma. Being trapped at home with their significant others has somehow made them lonelier than ever. Superb acting from Cassandra Paras and Niccolo Walsh make this honest conversation between two friends engaging and emotionally accessible.
Amy Berryman's PIDGEONs, directed by Amber Calderon, also hones in on the breakdown of a relationship. A woman who's recently lost her husband to coronavirus confesses her sins over zoom, but when she starts talking about conspiracy theories (the virus isn't real, and neither are birds), things take a drastic turn. LeeAnn Hutchison performs with a sensitivity that mines the full depths of Berryman's script, switching from humor to horror in a seamless second. It's funny until it's not. Eventually it becomes clear that this woman's deranged thoughts and actions are simply her response to a loss she can't conceive of, which begs the questions: what does grieving look like in quarantine? and what happens when we refuse to let go?
Perhaps that's a question only a ghost can answer. In Mary, written by E. E. Adams and directed by Jordan Gemaehlich, a young Black woman, quarantined in her apartment, tries to befriend the ghost in her bathroom. But she's haunted in more ways than one, as her one-sided conversation soon shows. (Amberlin McCormick's mesmerizing interpretation may even haunt the viewer.) Though initially disturbed by the apparition in her mirror, she comes to realize that ghosts aren't all that scary. What's scary is becoming the thing to be scared of, to look in the mirror and be afraid of what you see. Finally, in what feels like a nod to BLM, she tells the phantom, "Some people will see a ghost before they will ever see me."
With a perfect balance of light and dark, some beautiful writing, and a sensitive, authentic cast, The Bathroom Plays are perhaps the most penetrating pandemic-focused art piece yet (at least that I've seen). The questions they ask are subtle but profound, perhaps unanswerable, but necessary if we want to retain our humanity in the weeks and months ahead.
Is loneliness a sin?
If it is, we're all due for confession.