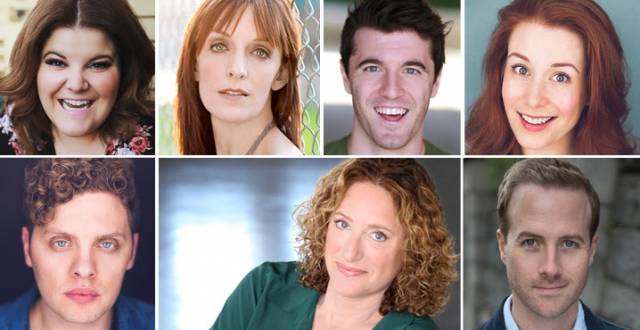 Who better to bring a bunch of fuzzy creatures to life than Broadway's best and brightest? In Broadway Sings The Muppet Christmas Carol, director and co-producer Katherine M. Carter, along with choreographer Jesse Robb, music director Neil Douglas Reilly, and James Dobinson, contributing additional music production, bring something very special to the New Jersey Performing Arts Center. The understated production is fun, spontaneous, creative, and charming, with the group of sparkling performers and master musicians seemingly play a game that imaginably could be called 'Let's be the Muppets.'
Performers were dressed in casual street clothing consisting of black pants and muted or green tops. Pieces of costumes here and there brought out the comedy of each character, just enough so one could identify, "oh, right, that was the vegetables at the beginning of the movie." Each performer played a staple Muppet and the show unfolded as a story-book hour.
The question to address is 'who is this for?' On one hand you have the small children that want anything Muppets related and thus parents bring them to this show. On the other hand, you have a group of extremely talented 30-40 somethings onstage and in the audience (sans kids) that grew up with these songs and, well, forget about the kids, these are our songs. 
The cast included the stately yet hilarious three-time Emmy winner Judy Gold as Scrooge, the celebrated elegant Julia Murney (Wicked, Lennon), Ryann Redmond (If/Then, Bring It On), Bret Shuford (Amazing Grace, Paramour), Joshua Morgan (Les Miserables), Kevin Zak (Clinton the Musical, Silence!), Phillip Taratula (The Outs, Empire Travel Agency), Will Porter (A Chorus Line, Cats), Gretchen Wylder (Clinton the Musical, Bedbugs!), Sara Gallo, and Amanda McDowall's silly and sweet Tiny Tim. These are very serious entertainers having a seriously great time onstage, so the audience had a great time -- except for those pesky kid audience members, perhaps, many of whom had fallen asleep by the end of the show.
Don't you go changing for them, I say. There is so much to love about the simple yet downright funny way this production was staged. I could see the show doing well at a venue like 54 Below: it needs a boozy audience who grew up with the Muppets and now appreciate the more clever undertones yet still adore the sweetness of Jim Henson's work, which is exactly what is delivered.