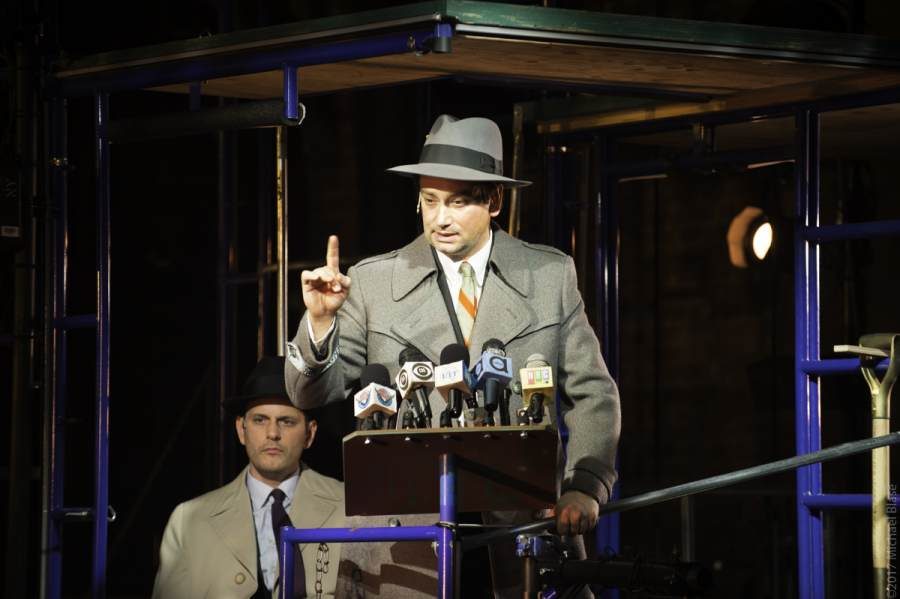 Ever since Hamilton we've been asking ourselves what goes in "the room where it happens." Bulldozer: The Ballad of Robert Moses gives us a brutal, rollicking peek.
The story, as told by Peter Galperin (concept, music, lyrics and book) and Daniel Scot Kadin (book co-writer), is essentially one of idealism, pragmatism, and entitlement gone monumentally wrong.  Moses, played by Broadway veteran Constantine Maroulis, is the embodiment of an oily, obsessive megalomaniacal politician -- as recognizable a character today as he was at the height of power in the 20th century.  Moses' legacy as an urban planner, which includes building the network of highways that connect New York City to the tristate area and the low bridges that kept buses and, by extension, minority New Yorkers from enjoying the parks and beaches of Long Island, has made him one of the most polarizing characters in New York City history.
The empathy that Maroulis brings to his portrayal of Moses is all but cancelled out by Moses' treatment of his paramour, Vera Martin, played by the charming and hilarious Kacie Sheik.  Galperin and Kadin break from the historical narrative when it comes to Martin.  Real life Moses married a former staff member, Mary Sims, whereas in this retelling of history Moses is abandoned by Martin, the woman he thought would always be at his side.  In the aftermath of the #metoo movement it is satisfying to see Martin turn away from the abusive Moses but the satisfaction is tempered by the fact that Martin's complexity lies entirely within the confines of the ditzy blonde trope and the question of whether or not she will stick by a powerful man.
Fortunately, Jane Jacobs, an urban planner contemporary to Moses, enters the scene.  Jacobs, played to indefatigable, no nonsense perfection by Molly Pope, provides the perfect foil to Moses, who is equally indefatigable and no nonsense but lacks Jacobs' egalitarian spirit.  In between these two extremes is the character of Nelson Rockefeller, played by another Broadway veteran, Wayne Alan Wilcox, whose sly portrayal of Rockefeller's shifting alliances increases the tension around who will win the battle for the blueprints to New York City.  The cast is rounded out by a Woody Guthrie-esque Street performer played by Ryan Knowles who adds to the ensemble with humor and versatility.
Across the board, the cast delivers virtuosic vocal performances that are perfectly in keeping with the virtuosic abilities of Moses himself.  Even director Karen Carpenter seems to channel the efficiency of the man himself as she streamlines the drama and deftly utilizes every inch of stage space.  The simplicity of the staging allows the cast, the music, and the story to shine while providing space for the audience to draw connections between the political dictators of the past and present and how far the mighty may fall.