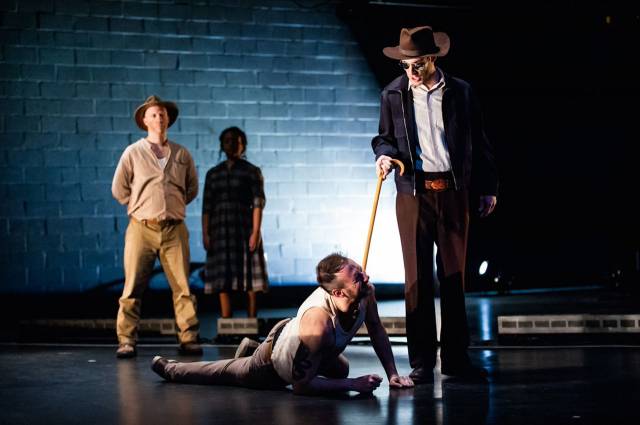 Godlight Theatre Company's Cool Hand Luke begins how it ends. In the Brechtian-mode, it doesn't pull any punches as to where Luke Jackson, convict, plumber and liberator, will end. A boot hill grave is written in this man's stars and so, when the chorus, a cacophony of whispers under jaundiced strip lights, delivers us his prophecy it feels less like a eulogy and more like a "Sing, Muse" -- so, Greek (like the chorus) and Epic (à la Brecht). By blackout Luke assumes the status of legend. But does the cooler hand prevail?
Based on Donn Pearce's 1965 novel, which was most famously adapted into a 1967 Paul Newman vehicle, Luke tells the story of a man who resists an awful lot of correction. Collared for snapping the heads off parking meters, Luke does time under the hot Florida sun on a chain gang while aviator-eyed warden, Boss Kean (a steely Jason Bragg Stanley) keeps his watch, threatens the "Box" (solitary confinement) and sees the larger-than-life Luke develop a following before slamming the hammer down after one escape too many. The Christ parallel might be strong here, but Luke would deny it to the end. And does.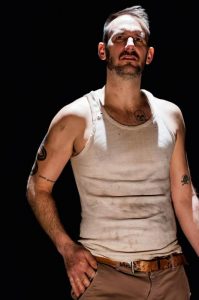 While the Newman flick is often light, adapter Emma Reeves' treatment remains truer to its source, touching the shadows of the crises of faith that color it. Lawrence Jansen's at-times slick, at-times manic and, when he feels like faking, neutered, Luke is not out to die for anyone's sins, to play martyr, or even give them juicy tidbits of his time off the reservation. No. He's done his share of liberating -- we hear firsthand of his campaign in the war, a largely elided part of the film -- and he's done with all that noise. It's fitting then, that this staging has no real frills. Maruti Evans' bare set and harsh lights lend a claustrophobic air to the black box at 59E59. There is no furniture and there are no props, just an oppressively minimalistic thrumming of Danny Beckbun and Bryce Hodgen's compositions keep us in Luke's head, even when the sound designer Ian Denio's strident shotgun pumps (which punctuate many a light cue) do a bit too much. Director and Godlight AD Joe Tantalo keeps the psyche big and stage picture vivid, jumping from chain gang tableau to the line of a firing squad and back to a domestic scene with a simple bit of blocking and a swing of invisible pickaxes. The less is more tack works.
We don't get the spectacle of Luke eating his famously large, 50 Egg Breakfast or the oft-quoted "Failure to communicate" line, but we are given a much better vantage into what makes the titular man tick, even if in direction he's a bit more rudderless even than your R.P. McMurphys and your Andy Dufresnes of other prison-type narratives. Comparatively, Luke remains a kind of tall tale figure, though one haunted by such complicating factors as the ghost of his mother (Kristina Doelling), his time in the service abroad and the specter of an indifferent God. The irony remains that to the men he served his time with, he became a kind of God himself.