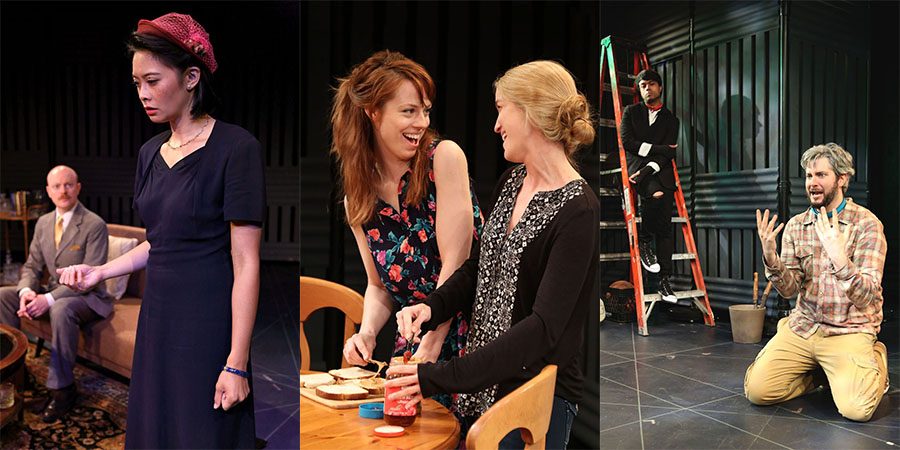 A miraculous event in theater occurred when I attended the Ensemble Studio Theatre and the Radio Drama Nework's presentation of their 36th Marathon of One-Act Plays Series B: Each and every one of the five plays presented was outstanding. Their high caliber was not surprising given the selection was made from over 700 submissions. As if the entertainment value and compelling written word wasn't enough to keep me satisfied, each play was beautifully staged and delivered by talented and skilled actors, most of them deserving and worthy of a much higher profile stage.
Down Cleghorn, written by Julia Specht and directed by Ralph Peña, was a very comfortable way to start the evening, in what begins as a seemingly normal pop-in from mom on a Saturday afternoon in Central Massachusetts, then turns into an intriguing reveal of childhood secrets, layer by layer. Complete with denial, self-centeredness, self-protection, and love, the natural and realistic performances, particularly by Emily Jackson as Jezebel, set the bar high for the rest of the evening.
Falling Away, written by Christopher Shinn and directed by Mark Armstrong, had an avant garde feel in its language placed in juxtaposition by its very relatable characters and simple staging. With two people in love discussing the possibility of a future together if only she would leave her husband, Shinn subtly explores loyalty and fear.
Linus and Murray, written by Leah Nanako Winkler and directed by RJ Tolan, had us believing that Curran Connor really was Murray the dog and Debargo Sanyal really was Linus the cat. Not only was Winkler's language from the animal's perspective simply adorable to any cat or dog lover, but the physicality and interpretation of a dog or cat personality by both actors was utterly magnificent. Winkler cleverly explores the universal theme of relationships with both gravitas and comedy, superbly supported by Tolan's intuitive and sensitive direction.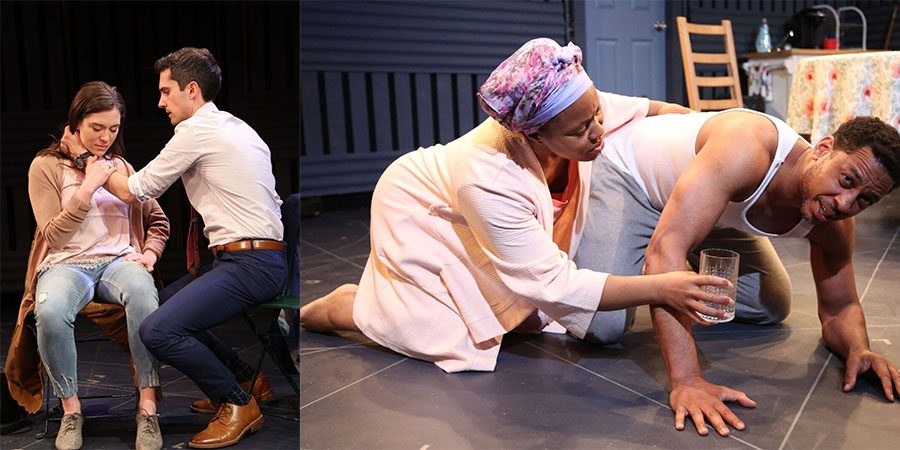 Disney and Fujikawa, written by Lloyd Suh and directed by Linsay Firman, takes us back to 1942 to witness an uncomfortable conversation between a Japanese-American illustrator, Gyo Fujikawa, and Walt Disney. The conversation turns from employment opportunity to American ideals, power, racism, and helplessness. Suh provides incredibly natural dialogue that is exquisitely delivered by Tiffany Villarin as Fujikawa, and Jeff Biehl as the famed Walt Disney is powerful to watch. Excellent direction by Firman created a flawless production honoring Suh's written words and intent.
On the Outs, written by Christina Gorman and directed by David Auburn, was compelling from start to finish. The plays tells the story of a man released from jail after nearly two decades and his struggle to adapt to his new-found freedom, the pressure to begin a relationship with the daughter he never knew, and the difficulty of falling asleep without having an enforced "lockdown". Shawn Randall as ex-con Jonas breaks our hearts with a realistic and understated performance, as does Lynnette R Freeman, whose strength and genuineness draw you in for the ride. Gorman's script is intelligent and lovingly complemented by Auburn's tender direction.