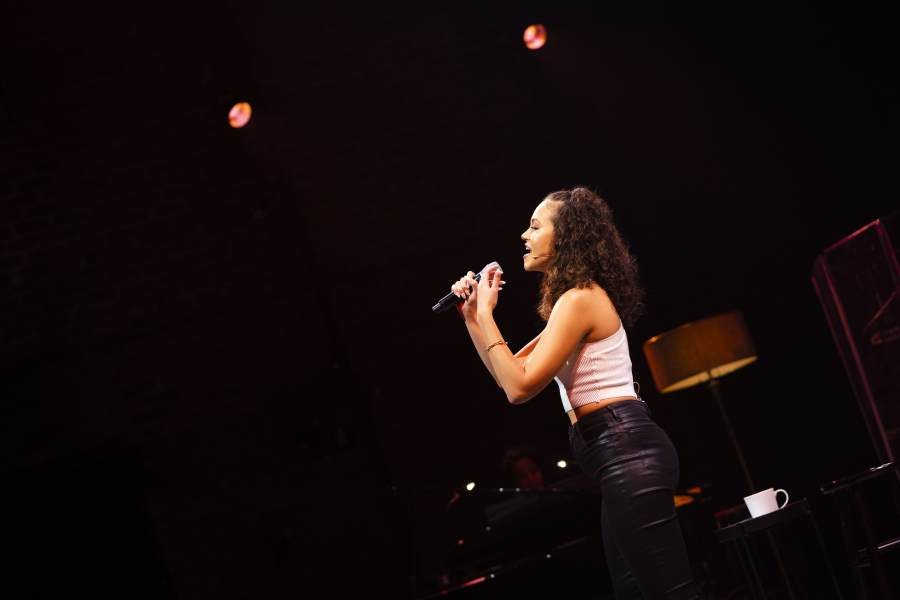 If you haven't heard of Solea Pfeiffer, you will soon. With powerhouse vocals, a virtuosic range, and a natural stage rapport, she has all the ingredients for stardom. And did I mention she's gorgeous?
Ahead of starring in the upcoming Tyler Perry film Jazzman's Blues, and with a track record of starring in Hamilton, Evita, The Light in the Piazza, and more, Pfeiffer makes her NYC solo debut at Audible Theatre this November. And it's about time.
In "You Are Here: An Evening with Solea Pfeiffer," directed by Sammi Cannold, the versatile actress reviews her life and career thus far, interspersing the narrative with songs that have both shaped her and become her calling cards. If the script sometimes feels a bit self-indulgent, Pfeiffer's charm and talent are such that any weaknesses are easy to forgive, and, after all, this is her show.
Backed by an onstage band of seamless musicians, and flooded in warm, gleaming light (courtesy of Jason Lynch), Pfeiffer demonstrates that she can both soar and belt. It feels as though she'd be equally at ease singing operatic soprano, earthy blues, sensuous pop, and powerhouse showstoppers. Whether she's crooning Stevie Wonder's "My Cherie Amour," dazzling with "I'm Not Afraid of Anything," or belting Evita's "Rainbow High" in a resounding roar of a voice, it's clear that Pfeiffer is pretty good at this whole singing thing.
In addition to pure vocal power, she impresses through sensitive emotion and phrasing. Her rendition of "Burn" (a song she sang every night while performing in Hamilton's West Coast premiere) lent a new fire to Eliza, while her "Morocco" (from Broadway-bound Almost Famous) was revelatory and her "Rainbow High" simply electrifying. Judging from the audience's two standing ovations, they all thought so too.
But comfortable as she may seem onstage, Pfeiffer openly admits that it wasn't always that way. When asked to describe herself in a college course, she came up short. The only child of an interracial couple (her parents were sitting in front of me), Pfeiffer often struggled to see where she fit in the grand scheme of things, and as a biracial actress, she's encountered her fair share of insensitivity, confusion, and people just being plain rude. After reassessing her heritage and learning to embrace the ambiguity within her, Pfeiffer is finally ready to tell the world who she is.
This story of an aspiring actress navigating social constructs should sound familiar. At some point, whatever our heritage, we all have to grapple with the fact that we're a product of decisions made before we were born. At some point, especially in New York, where, as Pfeiffer says, "lost people flock," we all feel that we don't belong. For that reason, Pfeiffer's story is likely to strike a chord no matter the audience's background. Composed of contradictions, we're all still forming the words to try and introduce ourselves to the world. But for the moment, we're here, and that's enough.