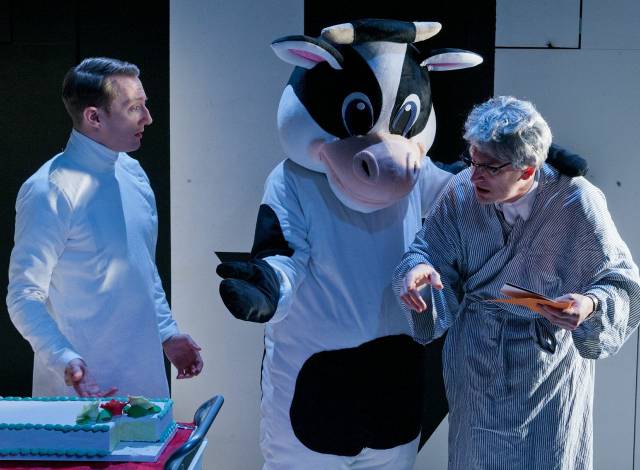 You needn't be a lover of cake to enjoy the side-splitting, slapsticky series of sketches, Everybody Gets Cake! But if you happen to be, you're in for a treat. Physical theatre company Parallel Exit has created a non-stop frenzy of familiar comedic tropes, word play, and physical humor. The result is reminiscent of an episode of Laugh-In. The laughs are nearly constant.
Created and performed by three clowns—Danny Gardner, Joel Jeske and Brent McBeth—and directed by Mark Lonergan, the show presents a kaleidoscope of characters. There's the hilarious: the Novocaine Abuser who has lost control of his arm; the macabre: A Pair of Black Gloved Hands, seen trying to chloroform its victims; and the so-wrong-it's-funny: Hans the Sneaky Nazi. There are also some familiar characters with some not so familiar characteristics: Albert Einstein, who can't use a microphone; Mother Teresa, who hates bank tellers; and the Serial Killer, who sometimes loves kittens. Oh, and let's not forget the dancing cow, Steve.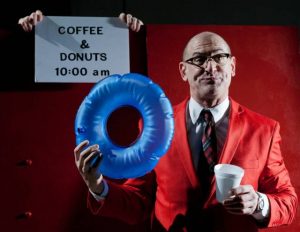 Providing the soundscape for these shenanigans is Ben Model, playing an original score to set the tone. When the tone turns wistful, marked by Erik Satie's Gymnopédie #1, there is a soulful moment or three. Most of the time, however, the mood is boisterous and maniacal. The pacing is so quick, you may only get the joke halfway through the next sketch. Even the set and lighting (Maruti Evans) are playful. The use of many different sized doors on stage is very clever. The costumes (Oana Botez) are ridiculous, which is to say brilliant. My favorites are the matching three-piece suits…in bright red!
Everybody Gets Cake! smacks of confection, but not the sickly sweet kind. It's more of a sophisticated yet playful taste, one you can easily swallow.