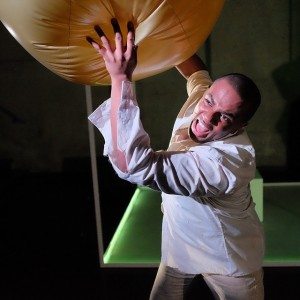 "Existence is illusory and it is eternal."
― Albert Camus, The Myth of Sisyphus and Other Essays
Three composers, one opera. This is the latest bold undertaking by Experiments in Opera, New York City's highly unusual, composer-driven initiative. Matthew Welch, Jason Cady and Aaron Siegel have produced a new work about the hubristic, boulder-rolling King, and it is a fascinating, if unavoidably uneven experience.
Sisyphus is at times witty, comical and poignant. There are a few attempts at broader comedy that are less successful, but what is amazing is how so much of it seems like a smooth work from a single creative mind. The story of what Sisyphus actually did that earned him his bizarre punishment unfolds; we meet Aegina, sung by soprano Lucy Dhegrae, as she works out with her buddy Jake and informs him she is dating a god. Not just any god, Zeus himself. He can take any form he desires, including that of an eagle. When Zeus, so disguised, takes Aegina and flies off with her in his talons the ruse is exposed by none other than Sisyphus the King, sung by tenor Vince B. Vincent, and it is this deed, not his despotism that delivers Sisyphus to Hades and his burdensome boulder. Zeus always was a bit self-absorbed.
We are also introduced to New York artist Brianna, sung by mezzo-soprano Kate Maroney, who is consumed by her own Sisyphusian troubles, namely obsessive-compulsive disorder. Her story dominates the entire stage right as she inhabits a large cube and sings her obsessive thoughts, often counting over and over again.
The opera is bookended by a story of three bank robbers. This portion felt superfluous, and served as unneeded comic relief that didn't really add anything to the overall piece. The story of Sisyphus provided all of the wit the opera needed.
The score, for vibraphone, cello, contrabass and modular synthesizer, is enchanting and often quite gripping. "The Eagle" is a powerful and mesmerizing song, showing off the lovely, bell-like voice of soprano Lucy Dhegrae. When we finally see Sisyphus in Hades, Vincent sings of regret in an energetic, pop-influenced song while actually rolling his boulder over the audience, who unwittingly stands in for the mountain.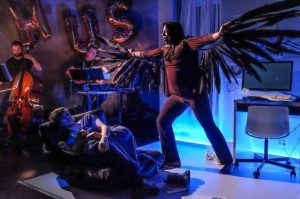 All of the singing is first-rate, and Vincent's acting as Sisyphus (among other characters) is really outstanding. His is funny and sometimes quite moving as he expresses his pain and, as he repeats again and again, regret. It is a solid cast of talented performers.
The staging by Ethan Heard is very strong, inventive yet quite focused. The set design by Kristin Robinson recalls Andy Warhol and Francis Bacon. There are simple yet lovely projections designed by Nicholas Hussong that really capture the majesty of the eagle, particularly when the image breaks free of a computer screen and takes over the entire space. The costume design by Maria Hooper is wonderful too, especially in the opera's most powerful moment, the appearance of Vincent as Zeus, disguised as the eagle, outstretching his wings as he softly sings to Aegina. All of the elements come together at that moment to produce a beautiful combination of image and sound.
Sisyphus, at sixty minutes, is quite brief for an opera. But it was certainly a daring experiment for three talented composers. Fortunately it is also a highly interesting one to experience.