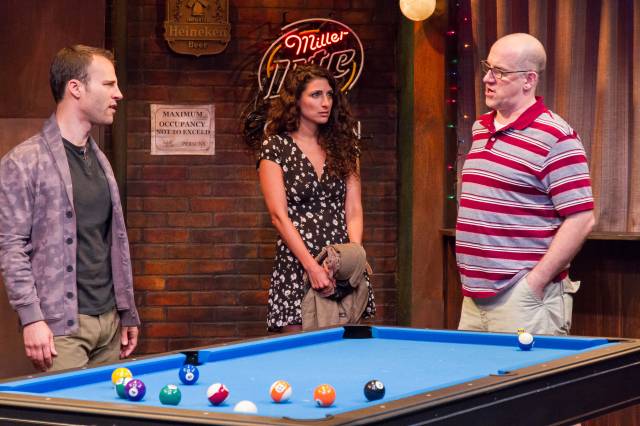 Masturbation, middle age, and the declining health of prostates starts Stephen Belber's comedic play about waning friendship. Fault Lines chronicles the bromance between Jim (Neil Holland) and Bill (Chaz Reuben) as they meet at an old haunt for Bill's 39th birthday. It quickly becomes apparent that the two friends have grown to be different men leading very different lives.
Jim is a sophomoric, perpetual "dude" who still boasts about his sexual conquests (including that of a handsy fifty-one year old). Conversely, a self-satisfied Bill has been happily married to the same woman and is ready for children. As tensions rise between old friends, in comes Joe (Michael Puzzo), a frenetic stranger in white socks and khakis.
The character of Joe Garcia is a credit to both Belber and Puzzo. He reminds you of every invasive person who has ever cozied up to you on trains and airplanes with unsolicited opinions and braying laughter. Once Joe enters, the pace picks up dramatically -- the play is funnier, faster, and sobering.
Belber is a real craftsman; he ingeniously sets up many traps and clues for us as the play derails from its original tracks. He has a gift for dialogue, interspersing sophisticated ideas with bro talk. His failing is clunky resolutions and too many plot twists -- even a horror movie can only bring someone back from the dead once.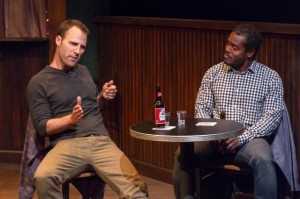 Holland and Reuben do fine work as two men falling out of love with each other. Puzzo is bold and magnetic -- he is therapist, clairvoyant, devil's advocate, and drunken divorcée with equal skill and pluck. Puzzo is a bull in a china shop and a ballerina; the audience surrenders to his dance. Danelle Eliav handles her role with poise and honesty, however small it may be.
Fault Lines is a treatise on loyalty, betrayal, and morality in seedy bars. Belber has carved a good play, verging on great. The carnage from a dying friendship makes for gripping theater.
Performances of Fault Lines continue through September 20 at the TBG Theatre. For more information, visit https://www.knifeedgeproductions.com/