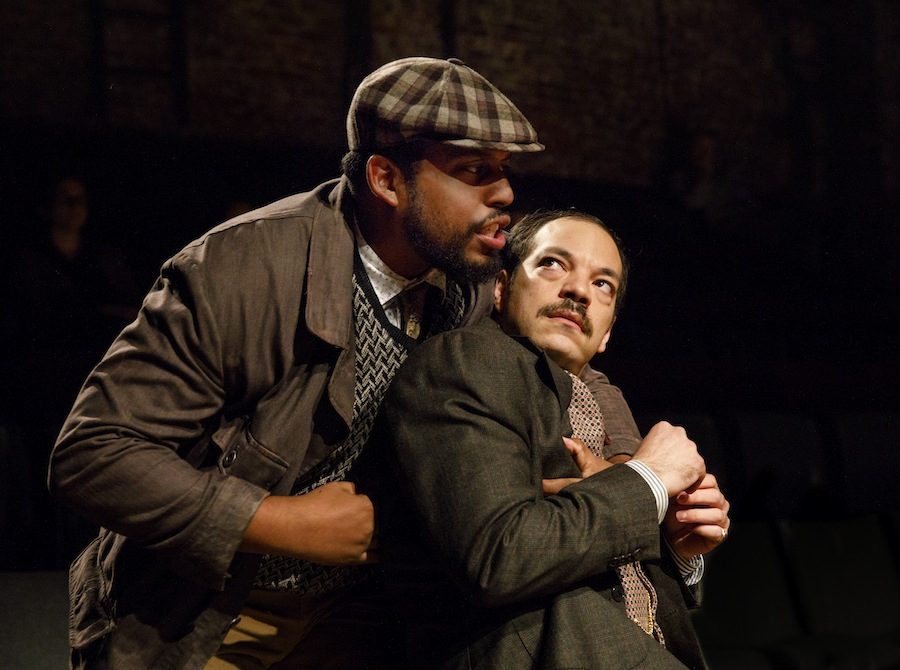 Twelfth Night, Or What You Will has been called Shakespeare's perfect play. In the same spirit, I'd call Fiasco Theater's production of Twelfth Night (directed by Noah Brody and Ben Steinfeld at Classic Stage Company) a perfect staging of a perfect play. In fact, rarely have I seen a play this perfect. Shakespeare's dialogue is given full reign, conveyed with clarity and warmth. As a result, the audience seems to catch every joke, laughing almost non-stop throughout the action. Where the directors have added their own touches - such as in the spirited musical numbers that open and pepper the drama - it corresponds perfectly with the tone of Twelfth Night.
The story involves shipwreck, separated twins, disguises, thwarted love, carousing, and some of Shakespeare's most endearing characters. Those adventure-esque elements are heightened by a set that vaguely resembles both a ship and an old ancestral home: wooden furniture, ropes threading the ceiling, and rustic metal chandeliers that ascend and descend via hoisted ropes. Similarly, the costumes seem to spring from a place between reality and fantasy. Though they have a vaguely 1940s  feel, more fanciful pieces like Duke Orsino's velvet coat and Sir Toby Belch's dusty top hat and overcoat suggest a hint of something more magical.
This hint is underscored by the live, acoustic music - guitar, strings, and piano - sprinkled throughout the play. From the rousing sailor's chorus that opens the piece, to the lament sung by Viola (a wonderfully sharp Emily Young) and various ballads sung by Feste, the Fool (Ben Steinfeld in an incredibly satisfying performance), the music adds yet another layer of gratification to a delightfully staged and beautifully played production.
Another strong win is the ensemble feel of the play and the adeptness of every single cast member, performing Shakespeare with nearly unparalleled clarity and beauty. Noah Brody's Orsino is aptly heart-sick, as is Jessie Austrian's delightful Olivia. As Olivia's dutiful house-maid Maria, Tina Chilip brings spirit and warmth in a deeply endearing performance, and the same may be said for Andy Grotelueshcen and Paco Tolson as Sir Toby Belch and Sir Andrew Aquecheek, respectively, whose performances are nothing short of comic perfection from beginning to end. Paul L. Coffey's Malvolio is resplendently arrogant, and especially hilarious when accosted by Sir Toby, Maria, and Sir Andrew Aguecheek after bursting in upon Olivia in his yellow cross-gartered stockings.
This production misses no opportunity for humor; but nor does it add humor unnecessarily where it does not exist. The directors and ensemble clearly act from a deep understanding and love of Shakespeare's text, and their joy is wonderfully infectious. As a result, you're unlikely to see a more purely delightful production of Shakespeare's perfect play.