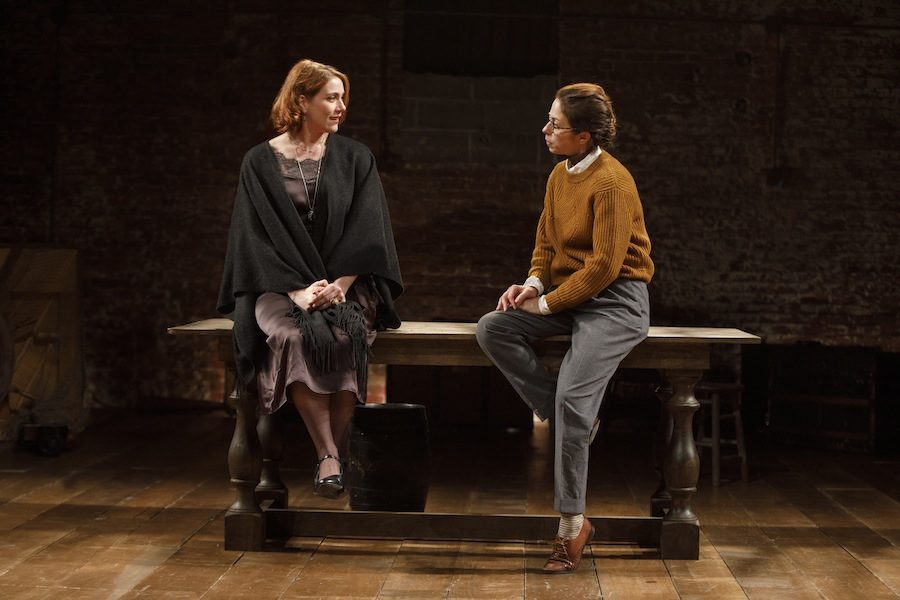 Perched in the back row of Classic Stage Company's (CSC) bare brick wall theater a couple hours before a preview performance I speak with Jessie Austrian, actress, director and one third of Fiasco Theater's co-artistic director triumvirate. Fiasco Theater's production of Twelfth Night is part of CSC's 50th anniversary season. Ms. Austrian plays the role of Olivia with cool wit and a soft luminosity and she brings those same charms to our conversation, plus a fierce intelligence and an unswerving passionate commitment to the need for theater in our world. Our chat revolves around a myriad of topics from the power of Shakespeare to gender parity, dream projects and finding balance.
Twelfth Night is one of Shakespeare's most well-known plays. What do you hope audiences take away from seeing Fiasco's production of Twelfth Night? How is Twelfth Night relevant today, living life in 2017?
The short answer is that I hope they take away Shakespeare's play, there's a lot to hear in it. How human beings deal with love, with grief, with misunderstanding, with identity, with foolishness…the way that we are all fools in different ways in our lives. I think everybody might take away something a little bit different that applies to their life in 2017, but the more I listen to this play the more I feel like the genius of Shakespeare is that he's tapped into something universal about humanity and so at any point there is something to take away about the way we work as humans. I hope that's what people leave thinking about.
Did you (and I guess, Jessie, you are answering for the "collective you" that is Fiasco) make any cuts, edits, additions or shifting around of text in this production of Twelfth Night?
A couple things but they're very small. Much, much less than any previous Fiasco production. This is pretty much uncut. In previous productions that people have seen, like Cymbeline or Measure for Measure or Two Gentleman of Verona, we did a lot more conflating of characters, and in the case of Cymbeline we excised whole events, but in this we really haven't. We had a couple of impulses early on and then we kept hearing the play totally uncut, hearing what is there and saying "no this is important" [for example] "this is a three person scene, we need Fabian". So I would say we've only cut a handful of lines.
How do you as a company make sure that Shakespeare's language is understood? Obviously, Twelfth Night has language and vocabulary that 21st-century audiences are probably not familiar with. How do you as a company make the play accessible? What do you do with lines like "bring your hand to th' butt'ry bar and let it drink"?
Well there are sort of two answers to that. One is that if we can get people to receive the play through their hearts and bodies and souls, there is stuff the audience can understand without intellectually understanding what the word means. At the time that Shakespeare wrote his plays, only 8% of his audiences could read so I would venture, with that statistic, that not everyone at the time when this play was written necessarily understood every single word in the play. But you can get the sense of it if the performer knows what it means and we understand the sense of language through its sounds and through its embodiments. We can get the big notion of what's going on in the language that we don't understand based on the sounds, what's being released and what the relationships are between people. So we try not to get too hung up in some sense and trust that if we [the actors] understand it, embody it and tune their ears to the way language is being used that we as human beings can understand even if we don't intellectually know what the word means.
And then there are also times that if the usage of the word has changed so radically over the last 400 years that it just throws the modern ear off or makes us think it means the opposite of what Shakespeare intended, we will sometimes change a word. After a lot of rigorous investigation we will do that if it is really landing on the modern ear differently than intended.
Things for Fiasco started with a production of Cymbeline at the Access Theater downtown. And New York audiences couldn't get enough of it! It went to The New Victory then Barrow Street Theater and was a NY Times Critic's pick. But it started with six friends who went through the Brown/Trinity Rep M.F.A. program together saying "let's do a show!" You all rented a space and wore all the caps, not just the creative caps of actor, musician and director.
Yes! We did everything. I did the laundry. We didn't have a wardrobe person. I took the laundry home to my apartment from Access because there was no washer or dryer there.
How is life different being a part of Classic Stage Company's season? And what's it been like to work with the artistic director of CSC, John Doyle?
It's great that I don't have to do the laundry! (laughs) It's amazing. Over the last eight years we've been so fortunate to partner with people like Theater for a New Audience, with Barrow Street, with The Roundabout and now with CSC. Plus a lot of regional partners. We don't have to wear the producing hats so we can really focus on the artistic conversation and that is so fantastic to find partners that get us, that get what we are after and have the infrastructure to help support that.
And in the case of CSC, John Doyle just gets us because it is very similar to the way he looks at theater and the way he looks at process. He didn't think a five-week process sounded too long or exorbitant but by American standards that's really long. Because often we're only given three and a half weeks to put a show together. So we had the kind process that we needed and John designed our set! He was interested in the first part of this season, the two Shakespeares (As You Like It, directed by Mr. Doyle, and Twelfth Night) being in conversation with each other. And so he came on board as our set designer! I believe it is the first time he's designed a set for a show that he hasn't directed which we were very honored by. He's done beautiful things to this theater. He's stripped it naked and made it feel very open and warm. This is the space where all the shows of the season are going to happen. He was interested in how the ghost of the previous show [As You Like It] still lived in the space. And we just love that, love to acknowledge the space that we are in, see the audience, strip away assumptions about what theater needs to look like and purposefully engage the audience's imagination. And that was what I think John was already trying to do in the space…put us all in the same room. It's been a wonderful partnership.
How do the Twelfth Night actors prepare before each performance? Are there any rituals or warm-ups you all do together?
We are still in rehearsals, so we've be just going away and eating (laughs) and coming back, we're already warm because we've been rehearsing. We'll see once previews are over. In the past, we've often done a group vocal warm-up. And we are all in the space doing our individual warm-ups before half hour. So nothing formal. But we enjoy being in proximity to each other and warming up the space with each other.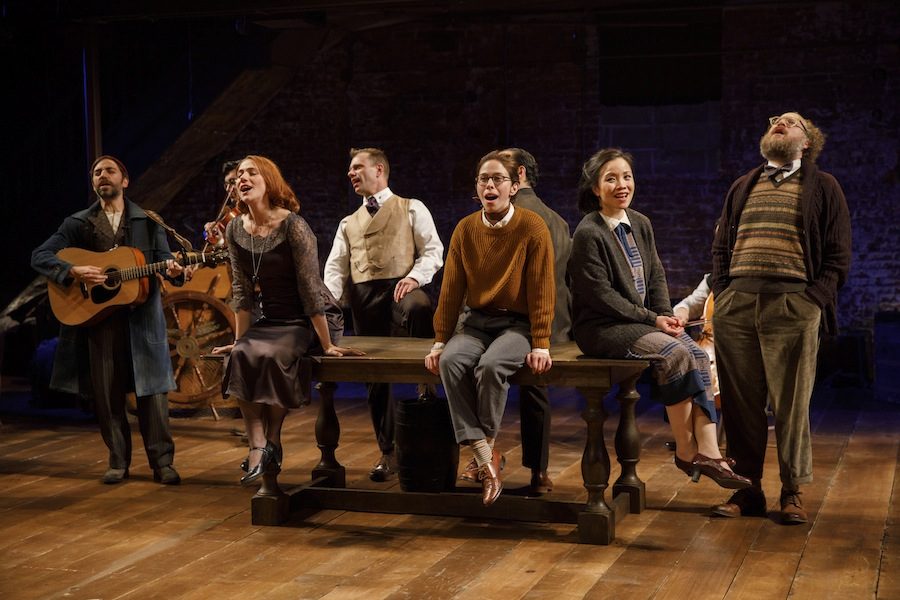 You and company member, director and actor Noah Brody are married and you have a young son. Noah along with Ben Steinfeld are the other two co-artistic directors of Fiasco. How do you balance work, family and personal life?
It's a lot of work. It's really hard. The Venn diagram of lives overlaps a lot and for the most part is wonderful, because we really respect and delight in each other's selves and artistic selves. And it's lovely to get to share that. And there are huge challenges that come with that, because you can't leave work at work. It's very hard to leave an artistic debate aside for a moment and go home and forget about it if we're really arguing about something artistic. It also requires real vigilance about protecting family time because it's very easy, especially with smart phones, for work to just creep into time that we want to carve out to be at home and be with our son. Especially since he's come along we've tried to be very vigilant and set some clear boundaries. We love Fiasco, Fiasco was our baby, but now we have a real baby! So Fiasco exists outside of us, it doesn't get all of our time. And that's hard but necessary.
You have to work at it.
And be honest. It's a moving, changing target. Live is a moving changing target. Parenting is a moving, changing target! That's something that this play Twelfth Night is about too. Not being rigid or extreme in a reaction to something but trying to be flexible and honest. Own when I set a boundary and then I broke it or own when we're tired! Tech and previews are really hard because we only get the mornings with him. And we're really tired because he still wakes at up at six!
How does Fiasco choose a project? What constitutes a project that is right for Fiasco?
Good question. The answer to that is evolving over time. It used to be "Is it an ensemble show that has great parts for the core company?" And now we're starting to expand the definition, because we want to be able to work with new collaborators. We started shifting the definition to "what makes a Fiasco show is the Fiasco process of rehearsing a show that is actor led, actor driven." That means involving the actors in the artistic discussion earlier than they often get involved in a normal process. Doing workshops early on to sort of hear what the play is asking and letting the text of the play inform conceptual and design conversations, the actors are a part of that process. And then in the room, the way we work gives the actors a lot of agency so that everyone knows what we are trying to do collectively and then we can serve that as individuals rather than feeling like one individual peg in a large machine. We built this ship together and now we get to ride it together and shine individually as we build this collective thing. So that's how we're talking about what makes a Fiasco show. It's kind of wide open. Great shows that excite us, that are well written and allow for ensemble opportunity. We're kind of interested in everything. We've obviously explored the classics and some musicals. And we're continuing to work in both those genres, but we're interested in looking at some contemporary plays, some American classics.
Can you name anything, give a few details?
We're working on another Sondheim musical. I can't name it yet, to be announced! But I hope that will come into New York next fall. And then we are talking about…we don't have another title that's certain yet, but we're starting another round of excavation. Oh, we're looking at some Restoration plays. I think that might be really fun.
What's a dream project for you? As an actor or as a director?
It's hard to pick one. We just made a list of passion projects. I'd like to play Lady McBee. I'd like to be in She Loves Me. I want to do a new play, get to be part of a new play process. And there are a handful of writers, some of whom are friends, some of whom I just love their writing that I would be so excited to work with. Because that would be very new territory for me. To be developing something that is being written.
Would that be with Fiasco or apart from Fiasco?
Both. I mean, I think Fiasco is interested in that, but I'm also hungry for that on an individual level.
As one of the three founders and co-artistic directors of an American theater company that is making its mark and commanding respect in the theater world, you Jessie, being in a position of leadership are bringing the American theater closer to gender parity. What are your thoughts and ideas about gender parity and diversity in the theater? Is this something that Fiasco discusses?
Absolutely. It's something Fiasco is discussing beginning with getting more diversity on stage in our casts overall. Which we've made a commitment to in this production of Twelfth Night. As the core company, we came together as artists, the six of us…we knew each other, we are all white. That's a problem in terms of representation. So right now we've made a commitment to making sure that the casts of our shows can be more inclusive than the six of us. Which we're also excited about artistically because we want to expand outside of ourselves and learn and grow from other great collaborators. I think we're starting to make a shift. Yes the six of us are great together, but we've now created a way of working and we don't need all six of us in every show all the time. So we're starting to figure out how that can be a part of our planning.
I don't think I have anything new to add to the gender parity conversation except that it is just right. We need more women in positions of power in this field. We need more female actors, we need more female artistic directors, we need more female playwrights in seasons, more female designers, female producers. At every level. I don't know…I guess I'm still thinking about how we can at Fiasco, other than picking our own projects, how can we help facilitate the conversation in New York. And I'm open to suggestions on that. Right now on a small level, we're just trying to make sure we're thinking about it as we figure out who works on what show.
You're having a conversation! The first big beginning step! Anything else you'd like to add to that?
Yes here's an addendum. I had the great pleasure and fortune of performing while pregnant a year and a half ago. And that's a rare thing in this industry too. To not only have women in positions of power, but to have women on stage who are pregnant or moms. To actually foster that.
This was when you were doing The Baker's Wife in Into the Woods?
Right. It didn't occur to me until I was on the inside of it that we almost never see pregnant women on stage. We're asking the audience to make a leap of imagination in every sense, to believe that we are somewhere that we are not and that I [as the actor] am someone that I'm not. So why can't, if I happen to be 26 or 32 weeks pregnant, why can't that be part of it. Hey pretend this actress isn't pregnant – she still gets to do her job. Why does that one have to be where our brains get hitched? That's just another personal crusade I've embarked on. To continue to do that personally, to try to forge a path that way and whenever possible make opportunities for women who are actors and want to have a family. They don't have to be mutually exclusive. But the way that we've all accepted the way the industry works and doesn't support having a family….in terms of wages, health insurance, the six day work week. And I'm ashamed to say that I never questioned it until I had a kid. As many of us do…we are young and we want the opportunity, the business feeds on this "you should be so lucky to have this job". It never occurred to me to question the six day work week in rehearsals and then suddenly I have this infant and I'm like, "I'm never going to see him! And I have to pay for 50 hours of childcare a week." That's crazy! How have I never realized how impossible the industry rules make this? Let's rewrite the rules! And that's where being in a leadership position matters. Let's make this possible!