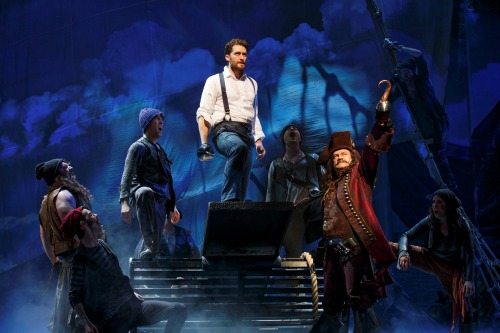 When your Broadway musical is based on not one, but two, quite beloved properties, it seems like there would be little to do in order to recreate the magic of the previous incarnations, and that is precisely what the creators behind Finding Neverland seem to have counted on, making for a production that relies completely on familiarity, without bothering to aim for any sort of freshness. The musical is based on the 2004 film which showed how Scottish dramatist J.M. Barrie (Matthew Morrison) found the inspiration to write Peter Pan. As the show begins we see Barrie being pressured by producer Charles Frohman (Kelsey Grammer) to come up with a show that will outdo his previous work.
Going through a mild case of ennui, Barrie finds himself completely uninspired until he meets young widow Sylvia Llewelyn Davies (Laura Michelle Kelly) and her four children, one of whom strikes Barrie as being a kindred soul; his name is Peter (Aidan Gemme) and while his three brothers spend their time pretending they're pirates, he disappears into his books and writing. Spending time with the children, Barrie finds himself rejuvenated even as his wife (a formidable Teal Wicks) grows further apart from him, and he is discouraged by Sylvia's mother (Carolee Carmello) who is preoccupied with her daughter's frail health.
As the plot advances we see the specific moments that led Barrie to write Peter Pan. In fact it's a surprise we are not given a list with items we can check to prove how Pan-savvy we are, especially because the show seems to live for moments of self-righteous gratification such as a cringeworthy scene in which Grammer's character is subject of a Cheers pun, complete with a pause meant for the audience to roar with approval and laughter. For a show that should be about the inexplicable magic of creation, every scene in James Graham's book seems overwritten. Even Diane Paulus' direction lacks effervescence, each moment so overwrought that each character seems to be wearing a light-up "Applause" sign.
Unsurprisingly, it's Morrison who makes the show a worthy enterprise, his Barrie every bit as tortured as he is charming. In the first act finale called "Stronger", his voice soars as Barrie discovers one of his darkest creations might be taking over his soul. As a digital storm rages in the background, and dancers appear from among the aisles to lift up the masts and sails of Captain Hook's ship, Morrison remains in the center, completely unperturbed and focused on Barrie's emotional journey; as dazzling as everything around him is, it's impossible to take your eyes off the leading man. It's a scene which proves Barrie's idea that those who bring sunshine to the world cannot keep it from themselves.