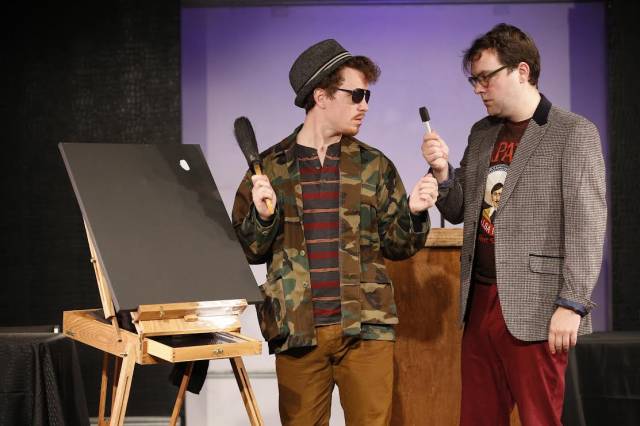 You begin to understand that you are not entirely safe as a theater-goer before you even take your seat for Going Once! Laughing Twice!!  In lowbrow tux and sneakers, Brian Jaffe - who authored the play - barrels through the crowd to bully the poor bastard at the door, demanding that the auction guests (yes, you) be admitted immediately. It's a clever device and it sets the pace for a surreal and very audience-participatory experience. You get your paddle and big fake cash, you're warmly encouraged to examine the art at Chump's (properly pronounced 'Shooomps'), and a variety of madcap subplots explode like firecrackers all over the damn place. The night has all the earmarks for a farcical and fun time, to be sure.
Some of this works. The auction itself is as interactive as it gets, and moves along wonderfully well under the abusive, greedy authority of Jaffe as auctioneer. Imagine a standard Joe Pesci character selling bad art and you'll get the idea.  Jaffe delivers just the right menace and desperation, and Breena Beck, as an intern both vulnerable and entitled, is strangely charming and real in the midst of this insanity.  I must add as well that the audience was gung-ho to play along; the line even blurs sometimes as to who is actor and who is co-opted ordinary person, which is a good thing in this sort of madness.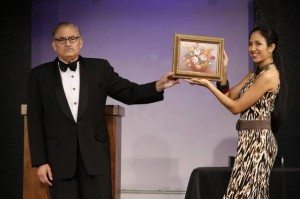 The problem, and I fear it's not little, is that this is farce, farce has got to be tightly controlled to work, and the audience participation and generally weak construction of the play itself combine to shatter the potential.  We do come to perceive that contested ownership of the auction house is the driving force of the behind-the-scenes scrambling, but this is both way over-emphasized and unclear. Too many performers here mistake cartoon-ish excess for farce, and the blame for this must be laid at the feet of director Eric Parness.  Farce needs more than tightness; it needs actors who play it straight.
Jaffe and Parness have a swell foundation for a great evening, but some serious adjustments to both script and performances are vital.  Without them, it's a case of going, going, gone.
Going Once! Laughing Twice!! is performed Thursdays and Fridays at St. Luke's Theatre. For more information and tickets visit https://www.goingoncelaughingtwice.com/