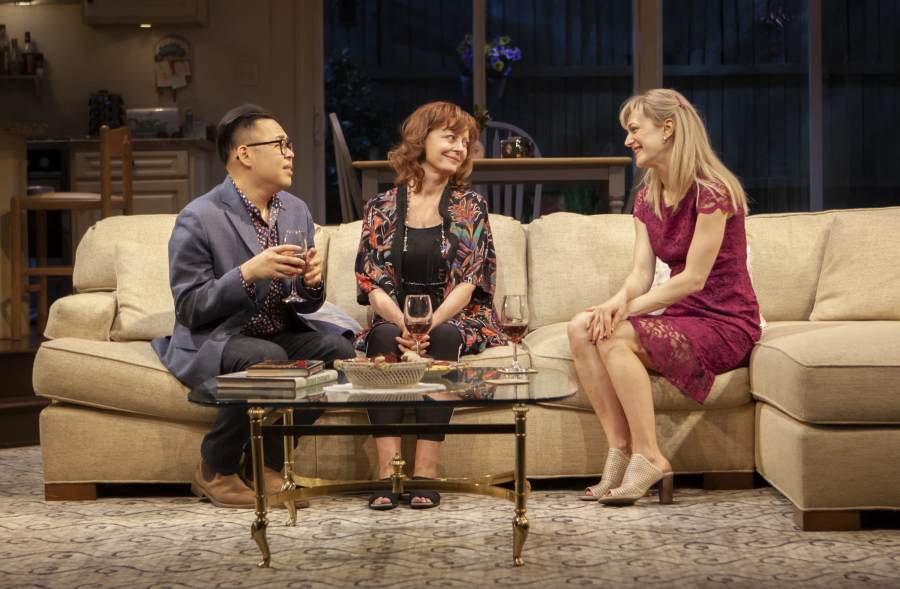 Although not a particularly good actress, Lorraine is always playing a part. Fortunately for the audience, Lorraine is portrayed by a particularly good actress, Susan Sarandon. In his new play "Happy Talk," named after the song from "South Pacific", actor -playwright Jesse Eisenberg has created a leading character who seems out of touch with reality, yet it's just the opposite; she's is totally in control and manipulative.
At first, we understand Lorraine's need to escape since she's surrounded by unpleasantness. Her husband ((Daniel Oreskes) has MS, her mother is an invalid and her daughter hates her. The problem is that, by the end, of the play, we really don't care about her or any of the other characters and that's the major flaw in Eisenberg's work.
Lorraine has spent much time in local community theater. Her latest thespian venture is the role of Bloody Mary in the local JCC production of "South Pacific." She has labeled Mary a 'broken woman" and Sarandon deftly changes our perceptions of Lorraine. At first, she arouses our sympathy. Her husband Bill is sullen and understandably angry and has seizures of pain. When Bill is in pain, she seems unable to handle it, arranging the refrigerator magnets while the caretaker tends to him. He rarely speaks, so she insipidly chatters at him.
She appears to care about Ljuba, a Serbian woman, who is her mother's caretaker and even tells Ljuba that she thinks of her like a daughter. Later as she speaks and reacts, it's obvious that her upbeat attitude is really self-absorption and selfishness, bordering upon cruelty. Many of the things she says begin kindly but ends with a dig. Her comments are made with a smile but are nevertheless hurtful. Often the targets of her remarks, Ljuba or Ronnie, a young gay Asian man in South Pacific with her, react almost incredulously as if they didn't hear her correctly. Ljuba notes, "You make everything into something happy…It's like you don't even hear them sometimes." Sarandon gives a good performance of a flawed character, and our ambivalence towards her is a credit to her performance in an imperfect show. Eisenberg often has Lorraine and Ronnie speak to each using lines from musicals. If you don't identify them immediately, the device is lost.
Ljuba is concerned that she will be deported unless she can pay someone to marry her, and Lorraine actually enjoys the caretaker's predicament because it allows her to become the matchmaker. Yet when Ljuba and Ronnie seem to be getting along, she resents their changing her script.
Marin Ireland is the innocent caretaker, accommodating and sycophantic. Ireland's accent seems a bit thick and strained at times. She is best when she gets to be dramatic, especially when Lorraine selfishly sabotages her chances of marriage. As Ronnie, Nico Santos ("Crazy Rich Asians:) is a bit-over-the top. He is too self-effacing and desperate.
Directed by Scott Elliott for The New Group, "Happy Talk" is filled with unhappy characters, yet Eisenberg's play leaves you unsatisfied with no one to root for or care about. At moments Lorraine reminded me of Blanche DuBois, who was out of touch with reality. Yet Lorraine is creating her reality, no matter who she hurts and that's even worse. Like "Blood Mary," Lorraine is a 'broken woman,' but at least we care about Mary.