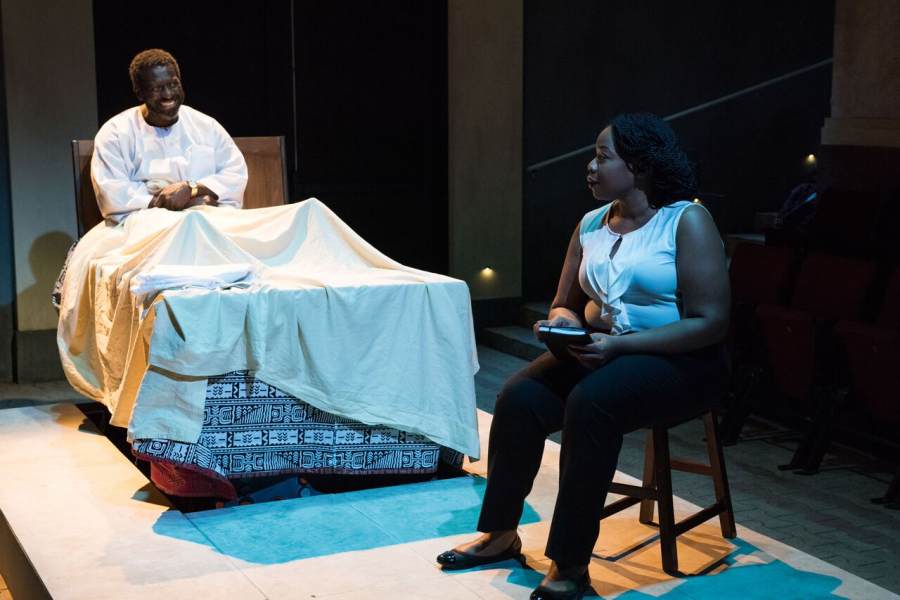 The Homecoming Queen marks playwright Ngozi Anyanwu's Off-Broadway debut and long may she reign!
The play is a beautiful meditation on home, alienation, love, pain, and regret. It strikes harmonious chords, whether they be of laughter or melancholy, with a masterful clarity. The actors comprising the Chorus, Ebbe Bassey, Vinie Burrows, Patrice Johnson, and Zenzi Williams, begin with a beautiful song, each in spotlight, like statues come to life, history animated. Each and every member of the cast is incredible. These characters feel fully realized and human, as if they walked out of the world and on to the stage at Atlantic Theater Company. This nuance is not only in regard to each character, but in consideration of all the relationships The Homecoming Queen explores. Awoye Timpo has directed a production intent on the verisimilitude of life and its complications, and wow -- how she does succeed.
Kelechi (Mfoniso Udofia) is now a successful bestselling author returning to Nigeria to see her ailing Papa (Oberon K.A. Adjepong) after being away and in America for fifteen years. She has stayed distant because of painful memories, trauma, and a fraught relationship with her father, all of which come to the surface while she is welcomed home -- by the past, by her aunties, by her own memory. As Kelechi herself explains to Beatrice (Mirirai Sithole), the orphaned relative Papa has taken in as his house girl, "Everything I love and hate is here." And that is true -- memories of her mother and of the music she used to sing haunt Kelechi in various silences. (Her mother died when she was a child.) Kelechi's relationship with Obina (Segun Akande), the former house boy (but more importantly Kelechi's childhood, now distant friend) who has grown up to be a successful banker, is tangled in longing, intimacy, and disappointment. Especially thought provoking is the relationship between Kelechi and her father. Their relationship crackles as they attempt to reconnect while not engaging with the past. They tease each other, berate one another, but struggle to communicate the love and regret they both feel. In flashbacks, where both Akande and Udofia - -with staggering ease, either in play or in crisis -- transform into their younger childhood selves, we see that Papa was once strict and imposing, a stark contrast to the relaxed affection he offers Beatrice. It is a long road to forgiveness.
The details of the production must be acknowledged: the costumes, the incredible music and sound, and the staging allowed a complete immersion in Kelechi's story, as if we were transported back to Nigeria with her. There was a particular moment when I thought someone's cell phone was going off (!!!!!) but it was, in fact, part of the play. I laughed to myself -- relieved that the magic wasn't ruined, pleased to be duped. It was, indeed, a magical experience and I feel grateful to have shared it with the audience and performers.
I won't spoil the final scene, but suffice it to say, it left me feeling buoyant while simultaneously aware of the difficulty of happiness and the strength it takes to continue forward. One of the most memorable and poignant endings I've seen -- a testament to the power of story and hope.