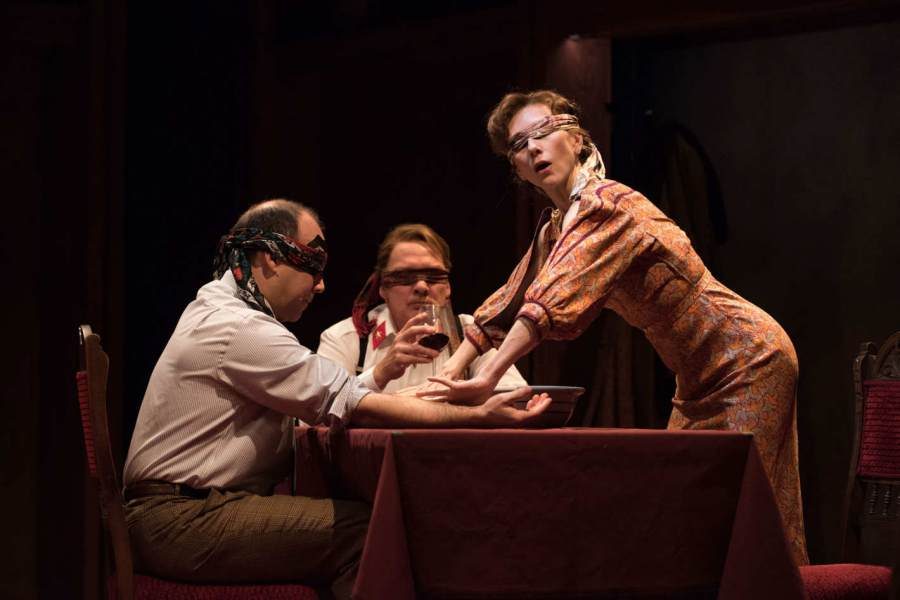 Writers thrive on stories. It doesn't usually matter whether they are true or not. The consumer of the story is supposed to enjoy it either way. But what if a story, or even the threat of a story, could get you in trouble? Describe the Night, an epic three-act play by Rajiv Joseph, directed by Giovanna Sardelli and currently playing at Atlantic Theater Company's Linda Gross Theater, is about what happens when the truth gets distorted and the lines between fact and fiction become blurred.
Multiple characters intersect in Describe the Night with a timeline that spans 90 years of Russian history from the Polish-Soviet War in 1920 to the 2010 plane crash in Smolensk that killed nearly 100 people, including most of the Polish government. Some of it is history and some of it is fiction. Sometimes the two are intertwined. The play jumps back and forth in time to create intrigue for a convoluted narrative that connects each character through one writer's journal.
Russian Jew Isaac Babel (Danny Burstein) is a correspondent during the Polish-Soviet War in 1920. He is supposed to report the facts but he wants to write stories. He meets Nikolai Yezhov (Zach Grenier), a commander in Russia's Red Army and, after impressing the soldier with a string of stories, a strange friendship is born. It continues for two decades, during which time Yezhov becomes chief of Stalin's Secret Police and Babel becomes a famous writer. Yezhov warns Babel of the dangers that are coming for "creative types" like him who write subversive stories. But Babel, who thrives on danger, ignores the warning and goes even further by seducing Yezhov's wife, the charming Yevgenia (Tina Benko).
Jump to 2010 and the journal that Babel kept during those years reappears in Smolensk. Feliks (Stephen Stocking) runs a car rental business and Mariya (Nadia Bowers) is a reporter on the run having just witnessed the fatal plane crash. They are extremely tense in a city crawling with police looking to detain anyone who has witnessed the tragedy. A desperate Feliks gives the journal to Mariya after recounting the incredible story of how he came upon it. Mariya flees the city with the journal and Feliks' truck.
It's 1989 and Vova (Max Gordon Moore) is a young KGB agent reporting to the much older, grey and bearded Yezhov. The old man's mission for Vova is simple: Do whatever it takes to contain his granddaughter in East Germany. Urzula (Rebecca Naomi Jones) lives in Dresden with her grandmother, Yevgenia, has plans to defect to the West but keeps hesitating. She's reading Babel's journal when Vova appears at her apartment, looking to intimidate the young woman into staying in the East.
The ambition of Joseph's work is stunning. The intricacies he creates by weaving together the stories of both historical and fictional characters is impressive. The play encapsulates the atmosphere of repression, terror and truth twisting of Communist Russia and the desperation it engendered for those behind the Iron Curtain, while somehow managing to infuse it with wry humor. The story feels particularly poignant in this political environment of politicians trying to cover up the truth. In Describe the Night, it's clear that manipulation of the facts has always been in practice. It was just covered up better.