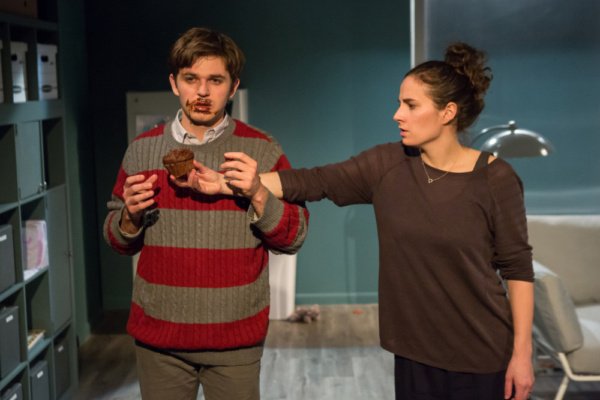 The grief of losing a child is, in a word, unimaginable. Yet Lauren Yee's new play in a word, a production from Cherry Lane Theater and Lesser America directed by Tyne Rafaeli, sets out to portray the inner workings of that grief. Her poetic language brings that grief to life in the play's journey from comedic coping to catharsis.
Guy (Jose Joaquin Perez) wants to take his wife Fiona (Laura Ramadei) to dinner, but she's not ready. Far from readiness being a wardrobe issue, Fiona hasn't been out in two years, since the disappearance of their seven-year-old son Tristan. Where her husband wants to try to be happy again, Fiona finds herself trapped in her past memories with her son.
Playwright Lauren Yee takes us through those memories with her mesmerizing language, casting the audience into Fiona's troubled mind to uncover what continues to haunt her. At times unreliable and at times heartbreakingly real, Fiona's memories roll through her interactions with the detective charged with the case, suspicious supermarket customers, and, of course, her young son Tristan (all of these characters are played by Justin Mark, who is named in the program as an ubiquitous "Man"). Through these memories, Fiona grapples with the fact that her son has special needs, a reality she was unwilling (or unable) to confront before he went missing, and fights to come to terms with her role in the unthinkable tragedy of his disappearance.
Yee's highly stylized language creates the world of Fiona's mind, aided in the way Oona Curley's scenic and lighting design interweaves the past and present, in wonderful and fascinating ways. As with all stylized choices, it might not have universal appeal, but it succeeds in bringing to life Fiona's trauma-ridden mind, drawing the audience into the depths of her plight, and brings a poignancy to all its puns. Some moments felt overwrought, particularly in the beginning, but Yee succeeds in bringing those moments together by the end, helping to make sense of some of the play's more overly poetic instances. The result is powerful, and gives the play a poetic structure that externalizes the inner workings of memories viewed through a screen of trauma and grief.
It might have been easy to become lost in the poetic structure of these words, but Laura Ramadei's stricken performance grounds the show in the reality of losing a child, the kind of grief that splits apart most couples who face it. Some aspects of her character could have been more developed (as a second-grade teacher at a school with a special needs program, Fiona's denial of her son's needs felt questionable), but her strength lies in the words she says (and omits) to her husband. It is those words, said and unsaid, that lie between them that make the play so hauntingly expressive.