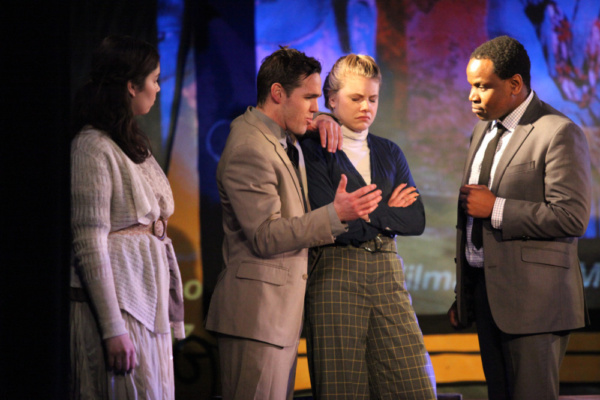 Written and directed by Victoria Medina, One Nation, One Mission, One Promise has great potential to fill in the gaps of what we are taught about our history in the school system, and for that it should be applauded. The tagline of the play is "What if Thomas Jefferson, Elizabeth Cady Stanton and Martin Luther King shared the stage for the first time, or Frederick Douglass attended a Town Hall meeting with Ellen DeGeneres?" Yet while it is impressive that the production strives to tell as many stories of American history as possible, the delivery is uneven and heavy-handed, at some points just a massive hodgepodge of quotes and impressions of historical figures.
All of these various vignettes are supposed to be tied together by the depiction of a soul waiting to be born (played by Emma Romasco). For some reason, this unborn baby is really eager to learn about American history, and smiles beatifically at all of the pageantry before her. Romasco's singing voice is truly beautiful, and she has two solos in the production. However, it is unclear why she ever started singing in the first place. From there, the play jumps through time, from one story to another, from the Revolutionary War to present-day back back to World War II. There is no rhyme or reason for the juxtaposition of the stories chosen for telling.
The entire cast, comprised of Romasco, Odysseus Bailer, Kelsey Lea Jones, Emelie Pla, Samantha Talbott, James Cougar Canfield, Jeff MacKinnon, and Dana Scurlock, did a great job working in unison to bring forth a lot of complex stories. They were absolutely in sync for their on-stage depictions, and all showed great presence whenever one actor was in the forefront. There was no wasted movement from any of them. None were typecast and equally told the stories of men and women of all races. There were a great many vignettes that required accents, and with this, some of the actors struggled.
There are truly educational moments, such as the depiction of Mitsuye Endo, the plaintiff who ended Japanese internment in the USA in 1945. However, Ms. Endo's story lasts only about one minute in a two-hour-long play; there is no time to go into the racial profiling that led to this in the first place, or the fact that our most recent presidential election called for a similar internment of another racial group. Thankfully, more time was given to the Native American Code Talkers, the Navajo warriors who served in World War II by using their native language as "code" to get messages across enemy lines. This is an important piece of history that should be brought more to the forefront in the classroom, and kudos to this production for highlighting them.
The vignettes that were more fully fleshed out were impressive: the story of a young Southern woman who was given to a man in marriage as soon as she had her first period and the life stories of Crispus Attucks and Deborah Sampson, a woman who served undercover as a man in the American Revolutionary War, were in depth and detailed, giving the audience time to really hear them and empathize. Inexplicably, other impressions included more modern references to the likes of talk show host Ellen DeGeneres, actor John Cusack and chef Julia Child, who sounded like Robin Williams in "Mrs Doubtfire" instead. Their relevance to American history was never quite clear, all the more strange as, prior to becoming a renowned chef, Ms Child had worked for the US Office of Strategic Services during World War II and later in the Foreign Service with her husband.
Still, One Nation, One Mission, One Promise is certainly an informative play, and I imagine it would be a wonderful resource for educators and their students.