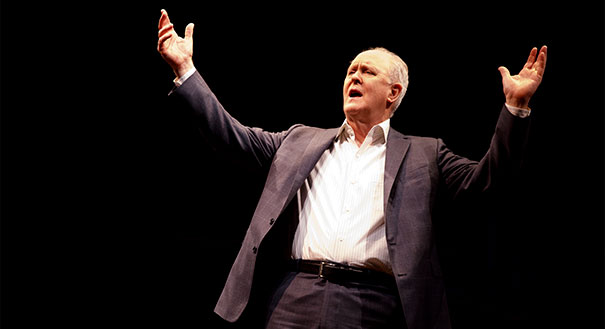 Just when you thought you couldn't adore John Lithgow any more after his Emmy-winning performance as Winston Churchill in The Crown, well, now you can. Lithgow is currently playing to enraptured houses on Broadway in his disarmingly funny one-man show John Lithgow: Stories By Heart.
It's a cozy night of storytelling, produced by Roundabout Theatre Company at American Airlines Theatre, and on the night I attended, the entire audience was enthralled. By the way, if you are looking for a smarmy little tell-all full of gossip and snipe, move along, there's no time for gawking here. No, indeed, Mr. Lithgow is performing two different selections from Somerset Maugham's collection of stories entitled "Tellers of Tales." These tasteful stories were once read to him by his mother and father at bedtime when he was a child.
At play's opening, Lithgow sets the stage, informing us that both his mother and father loved stories and in particular, stories read at bedtime. Lithgow's father, Arthur Lithgow, was a champion of the arts, creating The Great Lakes Theatre Festival, still in operation today. And here is where John Lithgow's charm really sparkles. He has the uncanny ability to remain the consummate professional actor, working out all the nuances of great acting and storytelling and narration, while at the exact same time inviting us in to the most vulnerable and intimate moments of his life. Astounding. Impossible. Can't be done. Unless of course, you're John Lithgow on stage, then frankly, anything's possible; I'd have believed the man could fly if he told me so. He's thrilling.
Now, on to the stories, the first is by Ring Lardner, called "Haircut." Lithgow works the stage as he slips into the main character of Whitey, the barber; we are immediately transformed from wooed audience members to barbershop co-conspirators. It's heavenly to see Lithgow work, primping and fluffing and chopping and snipping and, really, dancing his way through the murky tale, revealing time and again that small towns aren't always what they seem. I was immediately reminded of Alan Bennett's "Talking Heads," which is comprised of monologues revealing characters we may have judged inaccurately, until their full history is revealed. Tina Howe once told me it's always good to "see a bit of the lizard's tail" in a story; it keeps the proceedings from being too sentimental. Retelling this slightly unsavory story of small town revenge, Lithgow is never treacly and that's precisely why it catches us by surprise. Suddenly, at story's end, we're brimming with tears right along with Whitey, witnessing a vengeful co-conspirator get his due as life's lonely journey stings again.
The second story for the evening turns out to be a hysterical little joy ride entitled "Uncle Fred Flits By" by P.G. Wodehouse. There's a crucial back story to the telling of this tale. Lithgow's father was in distress after an invasive surgery, and both Lithgow's mother and father were very depressed. Lithgow tries to no avail to liven their spirits and decides to read them a story out of an old tome sitting on the shelf, the aforementioned "Tellers of Tales." To his joy and amazement, it works like a charm. His father laughs and his mother laughs too, sharing this delightful, frothy little jewel. As Lithgow reenacts the story, he dons the persona of Colonel Fosdyke, who introduces the main character of Pongo Twistleton with the line "If he had a mind, there was something on it," which so caught me by surprise I literally had to cover my mouth and howl into my sleeve. We learn that our sorry protagonist in this tale, Pongo, is beset upon by his Uncle Fred and the story that ensues is absolutely ludicrous. It's a tall tale, impossibly brilliant, filled with parrots and jellied eels and fake sign language, misdirection and false identities. Lithgow dons a British accent (or two or three) for this yarn and like all good storytelling, you don't want it to end.
Lithgow then gently looks to the rafters, bringing us back into the present moment, to say goodbye. "Good night Mom, good night Dad." Lithgow blows them each a kiss; tears in our eyes, we hear the lovely refrain, "I hope you feel better." In that moment the entire audience gasps with recognition; Lithgow's both at his parent's bedside and directly in front of us, kissing us goodnight. He's family. He's breathtaking. I've never felt better.