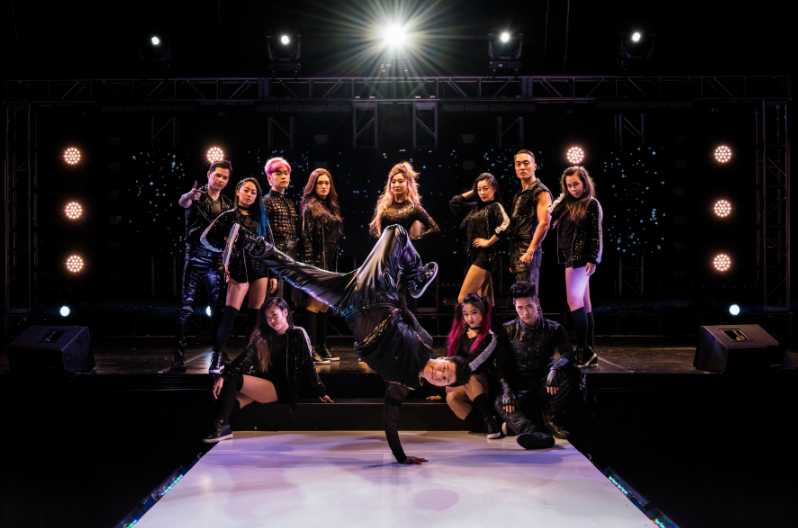 Pop music is often judged and misunderstood for its lack of substance and depth, as if catchiness and joy were any less important than the depictions of pain and loss explored in other musical genres. It appears that the creatives behind KPOP (conceived by Woodshed Collective and Jason Kim) wanted to put an end to the misconception that there is nothing behind pop, and that in its inception there are also blood, sweat and tears to be found. The problem is that behind its good intentions, the show attempts to do too much, as it's specifically a study of why American audiences have failed to embrace the South Korean phenomenon of the title. In trying to do both at once, the show feels a little too didactic, a little too crowded, and certainly too "whitesplain-y."
A truth of art is that not everything can be for everyone, so in spending almost three hours trying to show New York audiences why they're missing out on K-pop, the show becomes American-centrist, a perpetuation of the idea that the US is, or should be, the center of the world. The premise of the immersive experience finds K-pop royalty, Mr. Moon (James Saito) and his wife Ruby (Vanessa Kai), wanting to expand their record label to America by recruiting Jerry (James Seol) a slick, snake salesman, whose company was responsible for introducing Shakira, IKEA and Le Pain Quotidien to Stateside audiences. If the idea that artforms and companies from every part of the world can easily fit under a universal crossover umbrella is indeed rather great satire, its execution is much too earnest for it to ever acquire Roald Dahl-esque levels of darkness.
The idea of satire becomes even more muddled when we interact with three of the pop acts trying to achieve this crossover. We visit Queen of K-pop MwE (a divine, larger than life Ashley Park) who is facing the sad truth that at 26 she is "too old" for the market, boy band F8 dealing with an unwanted new member of mixed race who is trying to Americanize them too much, and girl group Special K, whose members seem to be trainees poised to become the new MwE's. We meet each of the acts in their carefully layered lairs, MwE's is all fur and white wood, surrounding what appears to be a shrine to her magnanimous presence, while F8's room looks like what you'd end up with if you gave a bunch of 11 year olds an unlimited budget to redecorate their playroom.
In learning of all the backstabbing, abuse, and drama going on behind the scenes one has to wonder if the show's critique is meant to merely show us that the South Korean pop industry has nothing to envy American and British pop artists when it comes to child labor, ageism and sexism. Are we supposed to feel better because pop artists are abused all over the world? When the show then tries to step back and the artists realize they don't need the American market as much as they thought, it's hard not to believe that less informed audience members will pat themselves on the back for failing to embrace an industry that can do such dreadful things to those poor children, and we will end exactly where we began.
KPOP appears at a time when American xenophobia is at an all time high, and stories about different cultures ought to be treated more carefully. Several times throughout the show we hear the artists being described as "missiles" about to land in America, which makes for a goosebump inducing thought, given the president's utter lack of empathy, self control and smarts. But is KPOP entertaining? It definitely is, and in almost devilishly delicious ways too, by the time we reach the extravagant all-star finale we have learned so much about the artists that we feel like authorities in the genre. Of course, what's true of the greatest pop songs, is also true for this show, as an iconic MTV show reminded us: we think we know, but we have no idea.