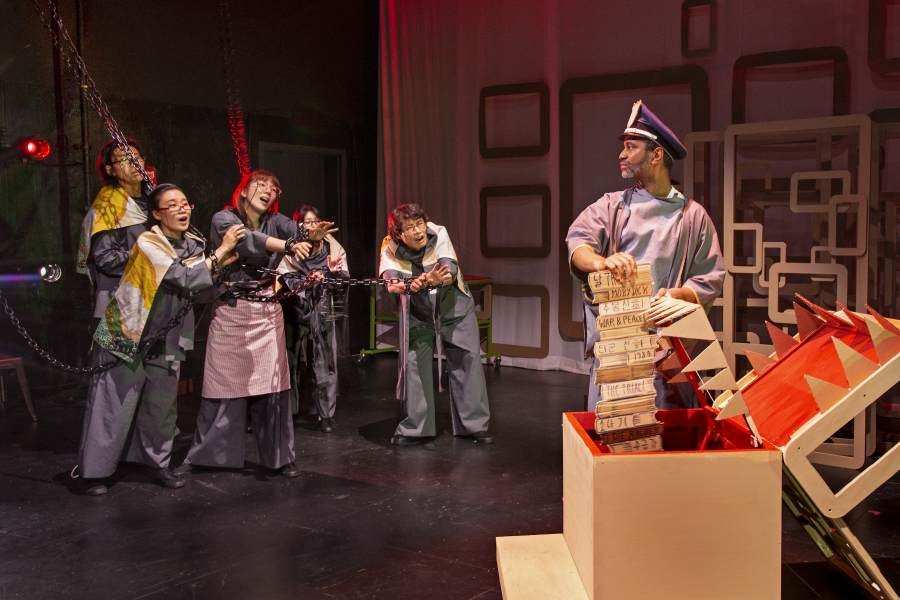 In the name of liberty, four robbers are hatching a plot to steal everyone's phones. They're dressed in gray uniforms that sort of resemble pajamas, and black felt bandit masks that seem to not quite fit over their eyes. One robber has his mask on upside down. I realize this last detail is simply a theatrical mishap, and I feel bad pointing it out, but I can't help feeling it perfectly encapsulates the show. 
Written by Renee Philippi with an original score by Lewis Flinn, The Legend of the Waitress and the Robber is directed by Philippi and Eric Nightengale, and staged at Dixon Place, which is exactly the right venue for this quirky, unhinged musical. A cross-cultural collaboration with a mix of English and Korean dialogue (with supertitles), it's simplistic and inconsistent, but it's trying very hard. And it's oddly endearing. 
In a dystopian future, a world superpower known simply as "The Company" dictates everything from who you talk to to what you eat. When First Son, whose father runs The Company, frames his brother, Second Son, for theft, Second Son takes up with a band of fugitives who crown him the Robber King and hatch a plan to steal everyone's phones. 
Meanwhile, the Waitress of the title, who reads banned books, begins kidnapping senior citizens to give them a better life. (Don't ask.) Eventually, she crosses paths with the Robber King, and apparently the pair were childhood sweethearts. The stage is set for a coup of epic proportions, even if most of the rioters are senior citizens and petty thieves in upside-down bandit masks.
With a self-referential charm (I think I fell in love at the line: "the waitress and the robber come together at last, not a big surprise, it's the title of the show"), moments that border on pure genius (a climactic reconciliation scene is staged using cardboard emojis), and a cheekily low-budget aesthetic (props are undisguised cardboard and actors perform their own sound effects), it's a show that's hard to be hard on.
First Son (James A. Pierce III) is the standout star. In the musical's most entertaining scene, he feeds the Waitress' banned books into a…personified trash bin(?)…and cries "NomNomNom" as he repeatedly bangs down the lid, which is, yes, equipped with monster teeth.
At this point, it dawned on me that I was perhaps not watching a mediocre mess but an off-beat gold mine capable of becoming a cult classic. Yes, I may have rolled my eyes, I may have wondered why Second Son rode a RipStik through the whole show, and I may have asked myself several times if this was really happening or just a fever dream of my overworked imagination—but when the cast stepped forward to take their bows, my applause was unironic, and my huge grin was genuine. In fact, I'd venture to say that if you attend The Legend of the Waitress and the Robber and don't have a fun time, you can take away my phone.