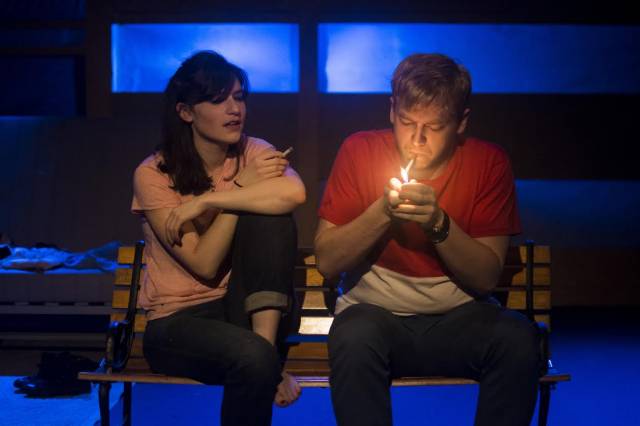 Our first love may fade over the years, but it never truly goes away. In his original play the lighthouse invites the storm, titled after Malcolm Lowry's first collection of poetry, Josh Drimmer explores what happens when one willingly revisits those feelings from the past, and the results both hit home and inspire laughter. Presented by the Sanguine Theatre Company and directed by Logan Reed in the Chain Theatre's minuscule black box theater, lighthouse is a truly intimate experience with the souls of the characters laid bare only a few feet before you.
The first act of the play takes place during a month-long pre-college art program where teenagers collaborate in classes on acting, writing, etc. The show begins with the character Jay (Debargo Sanyal) reading an excerpt from the sci-fi epic he is writing, intentionally hamming up every inch of the monologue with overdramatic phrasings and descriptions before letting his true character slip out at the very end. The story then opens up on Quinn and Irene (Curry Whitmire and Liba Vaynberg, respectively) lying together on a futon, having been engaged in a non-sexual affair for an unknown amount of time. Irene has a 22-year-old boyfriend named Greg (Zach Fineblum) outside of the school but finds herself attracted to Quinn's passion and innocence. Quinn in turn is attracted to Irene's mysterious nature and sense of humor and finds that she inspires his writing. Over time Quinn's feelings for Irene grow and grow, but her inner turmoils cannot allow her to simply be with him. Alongside this complicated relationship, we're treated to a more humorous love subplot involving the aforementioned Jay and his affections for fellow student Nicole (Alli Trussell), who has feelings for his friend Quinn. Various complications combined with the brief amount of time they are together doom these relationships from the start.
Act 2 picks up 16 years later in New York City with most of the cast still present. All of the characters we met in the first act are almost completely different people now. The once bright and nerdy Jay has grown into a married yuppie with various "side pieces" to keep his life interesting. Quinn has followed his dream to become a writer but feels he has sold out to mediocre writing for easy money and lives in constant fear of being dropped by his publisher. He too is married but finds himself dissatisfied with the life, and so he gets back in touch with Irene. When the two reunite they acknowledge how the other has changed, but as their feelings for each other reemerge, it's clear that they're still the same kids they were when they first met.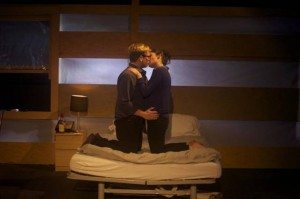 The performances from the cast are on point from the beginning. Whitmire's Quinn is perfectly naive with a lovably awkward nature to him. Vaynburg perfectly captures the indecisive nature of Irene, who struggles with who she is and who she wants to be, and Sanyal's Jay, for the first act at least, keeps the humor going in the scenes that feature him. Zach Fineblum plays what should be your typical jerk boyfriend, but through him and the writing Greg's honesty is allowed to shine through and we see that he is just like any one of us. Playing a different character in each act, first the ditzy Nicole who is just too nice sometimes and then a frustrated waitress, Alli Trussell might convince you that the two are played by two different actresses. In its entirety the cast works well together and have an obvious trust between each other to play off of.
Not enough can be said about Drimmer's writing, really. The dialogue flows naturally from the mouths of the talented cast and are as conversational as one can get. While not everyone can claim to have had an identical experience as these characters, the heart and soul of the show revives a sense of youth within you. Director Reed's staging is simple but detailed, with few full set changes in between scenes, and blackouts broken up by an eclectic range of tone-setting music. Costuming by Ashley Simeone also deserves a congratulatory shout out for perfectly illustrating the character of each person before we even hear them speak for the first time.
If you're not a Long Island City local, this reviewer still recommends you make the trip out to catch this touching and humorous play, which tells a story of youth, frustration and disappointment with just enough awkward humor.