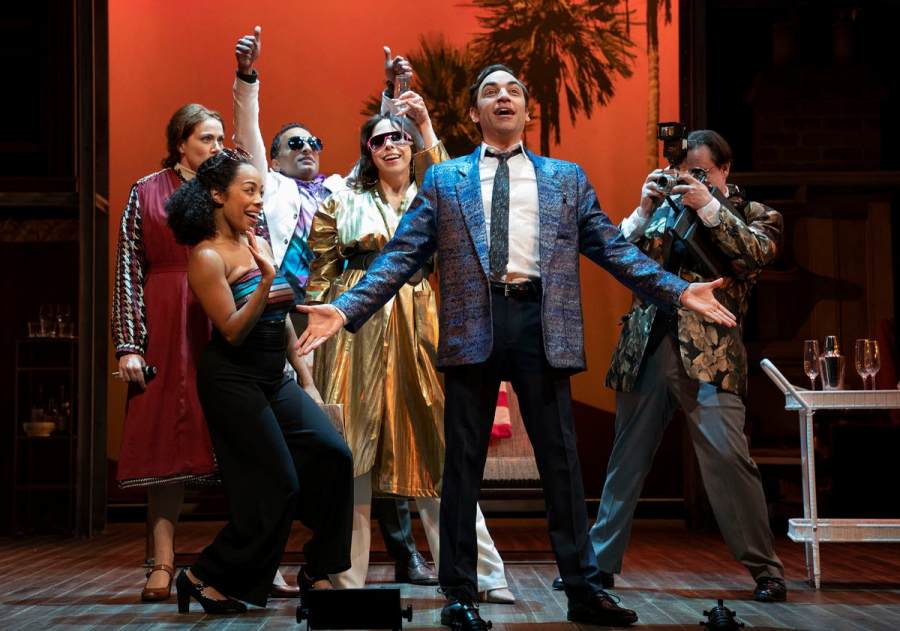 For some of us fans, Stephen Sondheim can do no wrong. However, that is not to say all of his musicals have been winners. "Merrily We Roll Along" has always been described as a 'problematic' play. The show, with music and lyrics by Sondheim, a book by George Furth and originally directed by Hal Prince, had issues from the beginning. It did poorly in out-of-town previews and then had a delayed opening. When it officially opened in November 1981, the audience response was negative and some people even walked out. The show only ran for 16 performances.
Despite revamped revivals, the musical has never garnered the praise of other Sondheim work, although it does contain some marvelous Sondheim music like "Not A Day Goes By" and "Old Friends." In the latest revival, a production by the Fiasco Theater at Roundabout, the musical has become more streamlined. There's a small cast of six performers with three of them portraying the main characters while the other three play all the other parts. (In one of the original versions, the three main roles were played by two actors, one older and one younger, but that got too confusing.)
There are racks of clothing onstage and characters grab their change of clothes and props to assume new roles. Often when characters aren't in the scene, they remain onstage in chairs but in plain view.
One issue for some people might be in the manner of narration of the play. The musical begins with Franklin Shepard (Ben Steinfeld,) a successful moviemaker speaking at a ceremony and recalling how it all began for him 25 years before. As a young composer, he began his career with his best friend Charley, a lyricist (talented Manu Narayan,) writing short skits and working on a musical about politics. Together with a neighbor-friend, aspiring writer Mary (an entertaining Jessie Austrian,) they shared triumphs, disappointments and life- cycles events.
Then, in what is a clever but perhaps confusing device, the story looks back in short bursts of years. By the end, the musical has reached the starting point when the three met and began work together. It's not simply a flashback; it's several incremental flashbacks, getting us back to the beginning of their friendship and working relationships.
Somewhere along the line, some plot lines get blurred and lost.  Mary has loved Frank from the beginning. In fact, we learn this when Charley chides her in an early scene asking if she ever told Frank how she feels about him. Yet we don't see it or even hear about it till several scenes later when she sings plaintively during Frank's marriage to someone else.
The major conflict between Charley and Frank is that Charley feels that Frank has 'sold out" by writing commercial material rather than concentrating on his serious material. Charley, a father of four with a house in Connecticut, would have needed money to support his own lifestyle so his anger at Frank seems a bit hypocritical. Perhaps in shortening the play, some of the storyline has been deleted.  In reading an online summary, I learned that Charley, himself, had become a successful author but that didn't seem clear from Roundabout show.
The gorgeous setting, scenic design by Derek McLane, is a cluttered floor -to ceiling warehouse or prop room, with loads of objects, lamps, bottles and busts, etc.  Overhead are a couple of different chandeliers.
It is interesting that only Mary changed over the 25 years.  Did I pick up on that because I am a woman? Austrian does a fine job as the cynical, sarcastic, alcoholic Mary, and at the beginning, she's frumpy, dowdy and unattractive. She sheds clothes as the action goes backwards and she becomes quite attractive as she sheds years. So why don't the men change?
Although the show isn't one of Sondheim's popular ones, some of the music is quite familiar. Sondheim's songs also have a versatility.  When Beth, Frank's bride, sings "Not A Day Goes By" at the wedding, it is a love song and full of hope.  When she sings the song years later after she and Frank have separated, it is full of regret.
Sondheim musicals offer a dark picture of relationships, and like some of his other work, "Merrily We Roll Along" is bittersweet. The three young people start out "merrily" with dreams, hopes and ambitions. Along the way, things and people change, and sometimes life just doesn't work out the way we planned.