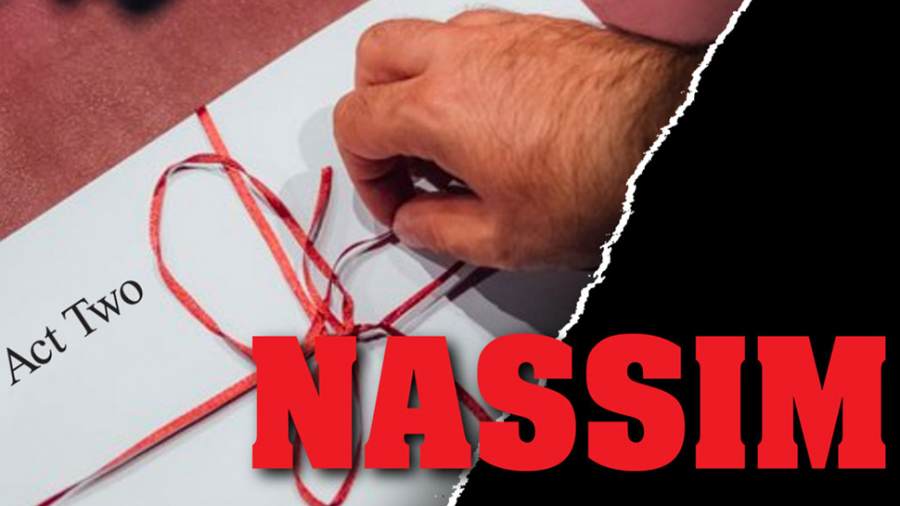 Rotating casts with guest performers have become common in Off-Broadway theater.  Sometimes, actors appear for only few weeks, other times they stay for months and often appear in front of the audience with the script in hand. In a unique variation on that approach, playwright Nassim Soleimanpour ("White Rabbit Red Rabbit") has created a sweet show "Nassim" that bears his own name to explore the power of language and how it binds us and how it separates us.
Each performance features a different guest star. The night we attended the New York City Center Stage II, the guest performer was Thom Sesma ("Pacific Overtures," "Sweeney Todd.") When the stage manager asked how he was feeling, he noted he was "terrified."  And who wouldn't be?  Sesma must have felt like an acrobat without a safety net because when he got onstage, he was handed the script and saw it for the very first time. He began to read from the pages as then the script was projected onto a screen in front of us. Sesma was only to read the words that weren't italicized. Every time he made an error, we all knew it and everyone, including Sesma, laughed.
Nassim was backstage and the actor was invited to joined him there to have tea. The ancient Iranian practice involves holding a sugar cube between your teeth as you drink the hot liquid. Finally, Nassim joined the actor onstage, bringing his computer with him. Never speaking but making himself very clear.
Sesma continued to tell Nassim's story. In English, the story is very simple-it is that of a young boy growing up in Iran.  But the meaning in Farsi, Nassim's native language, told a deeper story. So a part of the show involved the performer, along with the audience, learning words in Farsi.  As a boy, Nassim's 'penalty' for not saying words properly was having to eat a cherry tomato, and so Sesma began to eat tomatoes. When some of the audience members got involved in the play, they also ate tomatoes.
Stage II is a small intimate theater, and there was a lot of connection between the audience and the creatives.  Sesma's quickness and intelligence, sense of humor and facility with languages were quite impressive.  I'm not sure if he was actually began pronouncing the Farsi correctly, but it sounded pretty good to me. He appeared to be relaxed and having a good time so we, the audience, enjoyed the experience as well.
We also participated by following some of the stage directions. We repeated words in Farsi and felt as if we were part of the production, especially when we were directed to give Nassim 'gifts.' Some audience members even volunteered to join Sesma onstage.
Although the script is pretty much the same for each performance, the show changes with each individual performer, as he/she shares curse words, pictures and favorite restaurants with Nassim. Another visit to the show would, undoubtedly, result in a totally different experience.
Despite being silent, Nassim was very much in control.  Yet this is a play about words and language.  It is sweet and simple, and by the end, there's a sense of camaraderie and warmth.  By the end, Nassim finally spoke and has a lengthy phone conversation with his mummun (mom) in Farsi. By that point, it felt as if we understood much of what was said.  Some words and sentiments are universal-, especially when you are speaking to your Mummun.