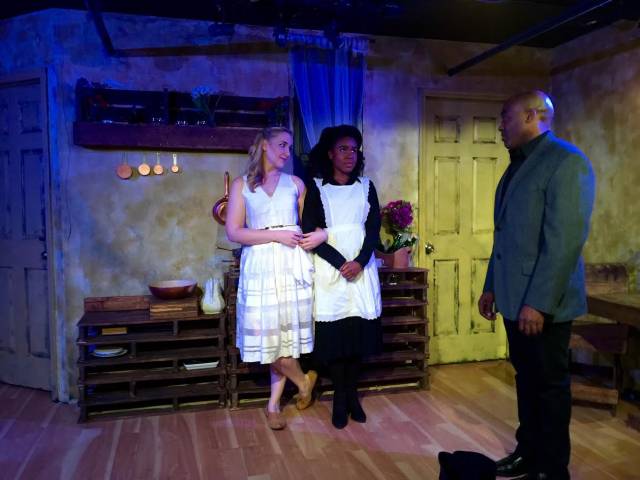 With Miss Julie, the Matthew Corozine Studio Theatre takes its modern New York audience back to 1888, when counts lorded over their manors and the slightest wisp of scandal could end a girl's life.
Set in Switzerland, Miss Julie tells the story of Julie (Kalynn Dodge), a young aristocratic woman who becomes intimate with servant Jean (Jamaal R Clifton) on a fateful midsummer's eve. The play is set entirely in the manor kitchen, tended to by Kristine (Kimberly Michelle Thomas), Jean's fiancée. Despite the threat of rumors and Kristine's protestations, Julie invites Jean to dance with her. After Kristine falls asleep, Julie and Jean spend the night talking about their pasts, and struggling to figure out a future. As their lives become dangerously embroiled when they consummate their newfound feelings for each other, they fight about how to handle the impossible situation in which they now find themselves, each hoping the other holds the key to the life they've always wanted.
Craig Lucas' adaptation of August Strindberg's famous play premiered at the Berkshire Theatre Festival in 2002, and though the story has great moments, some of the play's more misogynistic ideas on female hysteria and the dangers of women in power felt sharply dated. Directed by Gabby Aris, the production was straightforward, delivering Strindberg's story skillfully, but without attempting to twist any of the play's more outdated themes into a modern perspective, leaving Strindberg's misogyny go unquestioned.
As Miss Julie, Dodge shines at the play's center, portraying Julie's desperation and bewilderment with skill. Thomas captured Kristine's righteous disgust well in a more nuanced performance. The performances at times relied too heavily on shouting to convey the play's heavy emotion, which worked in some moments, but denied the opportunity to bring out some of the play's quieter struggles. Though this helped some of the more understated moments in the performance stand out as more emotionally charged, it underplayed the nuance in some of Jean and Julie's struggles.
David Gottfriend accompanied the play on the cello, and his music placed a beautiful emphasis on the play's deeper, more emotional moments while helping to maintain the strained atmosphere. The kitchen set was simplistic but Costa Nicholas' detailed portrayal sets the perfect domestic atmosphere to serve as the couple's battleground, capturing both the servitude Jean longs to escape and the power Julie wants to run away from. All in all, Aris' directorial debut delivers an enjoyable, if straightforward, adaptation of Strindberg's classic play.