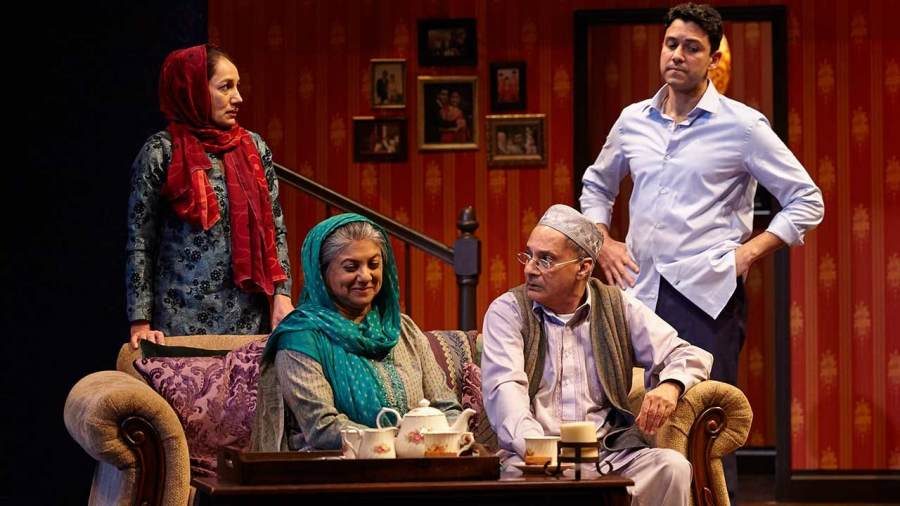 "I don't want to be tolerated. I want to be respected."
So states Azeem Bhatti (the outstanding Sanjit de Silva) to his friend and coworker David (Andrew Hovelson) in Hammaad Chaudry's stunning new play An Ordinary Muslim, directed by Jo Bonney.
While Azeem is speaking of being Muslim in Great Britain, the very nation that colonized the Indian subcontinent for 200 years yet sees no irony in complaining that too many Indians now live in England, the statement can apply to every character in this play in relation to their family, community and country.
The Bhatti family is realistically gripping in its portrayal of a multi-generational family living under the same roof, all strong personalities with cultural characteristics reminiscent of both Pakistan and England. Being the first generation to bridge this migration wears on Azeem, who seeks to define himself while everyone tries to inform him who he should be. Not that this stops him from doing the same to everyone else.
Issues of money, marriage, parenting and respect run through this play, and it is clear that religion and faith are two different things. Azeem's wife Saima (Purva Bedi) is up for a promotion at work at the same time she is running a fundraiser at a local mosque, and this has opened her up to harrassment and discrimination. She wants to wear a hijab, as is her choice, and Azeem tells her to be practical and not to. They need both their incomes to support his elderly parents (Ranjit Chowdhry and Rita Wolf), both of whom went through 40 years of far more racist times in England. Azeem and his sister Javeria (Angel Desai) take steps to not let their parents know how little has changed, all while trying to deal with the physically abusive past they suffered at their hands.
As Malika, the mother, and Akeel, the father, Wolf and Chowdhury are a welcome sight as older South Asian actors taking on meaty, well-developed roles. Their characters' understanding of who and what each other is, while grudgingly accepting it nonetheless, showed a sobering yet authentic portrayal of a long marriage. Wolf takes on the physical aspects of her role with aplomb, lying down on the couch to get her eyebrows threaded, and her involvement in one rather harrowing fight scene.
Bedi and Desai winningly display characters who are compassionate, strong, hardworking women who seek to dismantle the stereotype that wearing the hijab makes them the opposite. Hovelson's David is the perfect foil to de Silva's Azeem in their scenes, chummy and charming while advising Azeem to "start integrating".
Rounding out the cast are Sathya Sridharan as Hamza, a community member who is a devout Muslim, and his father Imran (Harsh Nayyar). Sridharan's Hamza is complex, religious with a crush on the married Saima and he shows palpable hurt that Azeem doesn't remember that they were in school together. As his father, Nayyar embodies the role of an Islamic elder to perfection.
Bonney's excellent direction is evident throughout, particularly with the moving set by Neil Patel and the lighting design by Lap Chi Chu and sound design by Elisheba Ittoop. There is a lot going on at once but it all comes together beautifully, and the actors stay in character even as the very floor they are standing on moves them away.
The costume design by Susan Hilferty, supported by costume designer Sarita Fellows and costume shopper Dina Abd-El-Aziz, are the most beautiful and genuine I have witnessed on stage, particularly on Wolf who, as Malika, wears shalwaar kameezes so she is covered and modest but never dowdy. The mix of traditional clothes and Western businesswear represent well the idea that both are part of modern culture.
It was not surprising that this show had a full house of appreciative audience members the evening I attended. An Ordinary Muslim is an extraordinary experience.