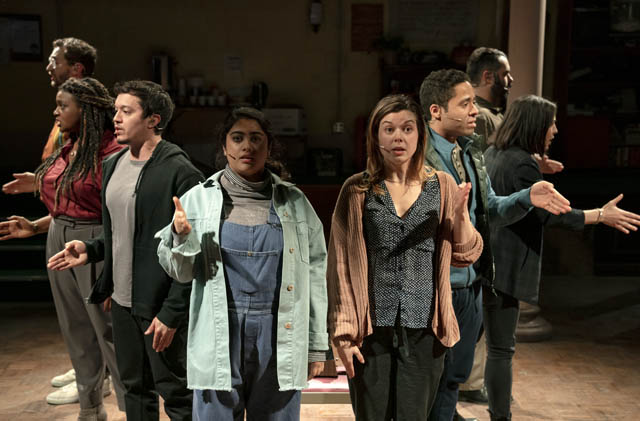 My friend recently posted on Facebook, "I love/hate being addicted to my phone." Dave Malloy's beautiful new musical "Octet," at The Pershing Square Signature Center might provide a solution to her problem. In the exciting show, the composer, writer, performer, and orchestrator musically examines a current issue that affects us all- technology. The internet is "the monster," but it's one with which we can't seem to give up.
The performance space resembles a church recreation hall still set up from bingo the night before. It is quickly rearranged with eight chairs forming a circle to accommodate the group that will be attending this evening's meeting. This is a support group, similar to an AA meeting. Instead of 'Friends of Bill,' these are friends of Saul (who remains unseen) who insists upon eight to a group. (Saul has noted that there are "8 bits to a byte.") These attendees are all technology addicts.
The mixed group, four men and three women, sit around the circle, awaiting the late arrival of a newcomer, "Velma" (Kuhoo Verma.) Like a traditional addiction support group, there's a leader, here played by Starr Busby as Paula. Several of the pieces begin as individuals "share" with each participant talking about his addiction, and how it has affected his life.
If you spend a lot of time on your phone or computer, you can easily find something to relate to in "Octet." In response to the obsession with technology, Malloy goes low-tech, using only the pitch pipe and the human voice. All the music is performed a cappella. The voices are wonderful, with each of the eight singers performing individually and establishing identities while explaining their addictions. Other songs are performed by the ensemble, layering voices (kudos to musical director Or Matias.)
Integrating spirituality with technology, Malloy assigns tarot card designations to each of his musical numbers. Velma sings "Beautiful" (The Fool) about obsessing with her online connections and not living in the present. Marvin (J.D. Mollison), a neurological researcher, sings about the issues of virtual reality and Toby (Justin Gregory Lopez) sings "Actually," a somber song about trolling the internet. Having been shamed online, Jessica ( Margo Seibert) can't resist constantly checking the internet for postings about herself. Karly (Kim Blanck)and Ed (Adam Bashian) sing "Solo" about their activities with porn sites.
The lyrics of the songs are introspective and often doleful. I kept wishing I had them in print to read later. The melodies are tuneful and creative and some songs are even humorous, especially when Henry ((Alex Gibson) talks about his obsession with candy games (Anyone hooked on Candy Crush?).
Malloy last impressed audiences with the electro-pop opera, "Pierre, Natasha and The Great Comet," derived from Tolstoy's War and Peace. The Playbill for "Octet," includes an insert that notes some of the many sources about technology, mental health, and spiritualism that influenced Malloy in creating this work.
The 'meeting' invokes spirituality, beginning with the opening song, "Hymn: The Forest" (where there's no cell service) and ending with another "Hymn : The Field." By the conclusion, the participants have shared the pain and isolation caused by technology.
"Octet" provides a powerful lesson of how technology can alienate people. At the end of the 85-minute program, I mentally resolved to wean myself off my phone a little. I felt sure that others in the audience had been similarly impacted. Yet, immediately upon leaving the theater, everyone got out a phone and turned it on. Maybe tomorrow, we'll turn the technology off and talk to people, but first, we need to know what we missed while we attended the glorious musical "Octet."