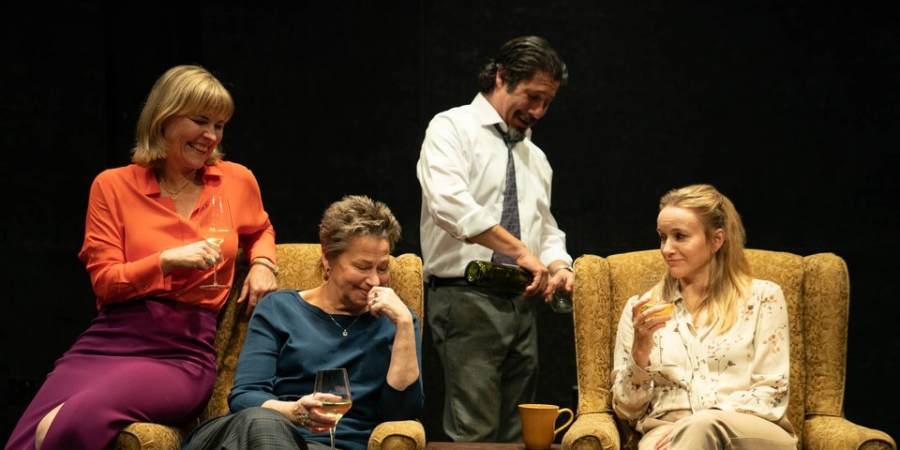 I am intrigued by mentalists and mediums and always excited about a play that uses spiritualism as its theme. Even more so when the playwright is Lucas Hnath (A Doll's House, Part 2, and Hillary and Clinton.) The Thin Place is a total departure from his other plays and, quite frankly it's a bit of a disappointment.
The setting resembles a TV interview format and is mostly a bare stage with two armchairs separated by a small table. Hilda (Emily Cass McDonnell) takes her seat and begins to address the audience about the special relationship she had with her grandmother who used to live with her and her mother. The grandmother tried to create a mental bond with Hilda, hoping to contact her once she passed over. According to Hilda, this worked. "These little games I played with my grandmother-those little…they sort of opened up a door for me-a door to this "other place," this -I don't know what to call it -this-thin place?
McDonnell speaks with no affect in a disturbing manner. When she latches onto Linda (Randy Danson) who helps people connect with loved ones who have passed, one wonders if it's to contact a spirit or to use Linda as a mother figure. McDonnell is off-putting and it's hard to care about her or her loneliness.
In contrast, Danson is warm and inviting, and her dulcet voice suggests comfort. Ironically, she isn't genuine and her calm soothing presence is belied by her confession that what she does isn't real. She explains that she just says whatever pops into her head until the right person connects to it. Linda's seances are theater, and she is an actress, giving convincing performances. (Think Whoopi Goldberg in the movie "Ghost" but without the glorious theme song.) Danson makes a believable medium.
The 90-minute piece is beautifully written but is not satisfying. It begins with an interesting premise but never fulfills it. Part of the problem is that very little happens and the search for connection gets interrupted by two other characters. Jerry, Linda's cousin, and Sylvia, a benefactor, have a party to celebrate Linda having gotten a visa. Hnath digresses from the central characters as the other two circle them in the armchairs to discuss the nature of charity. Linda interrupts them to note the two things that bother her about Americans. One is their obsession with Hitler and the other is the guilt they all seem to have.All interesting ideas, but none of which add to this dramatic piece.
Hilda is desperate for connections, but is it to her deceased grandmother and later her 'missing' mother? Does it matter-will Linda do instead? In fact, it seems as though Hilda might have actual power, not Linda.
Directed by Les Waters, the show has us waiting (and in my case, hoping) for shocks and surprises and a jump-in-your-seat moment. In fact, the lights in the theater are off for several moments towards the end of the play, almost as if we are in a seance. Hilda has dragged Linda to her mother's home, where the electricity has been turned off. I was tired, my colleague took a quick cat nap but I forced myself to keep my eyes open. I kept waiting for a surprise, but, alas , nothing much happened.
The best moments are the very few that border on slightly startling. Many people would love to have a last conversation with loved ones who have passed on to say the things we meant to say. The playwright has an interesting premise but leads us nowhere. The Thin Place is 'thin' with a slight story that promises but doesn't deliver.