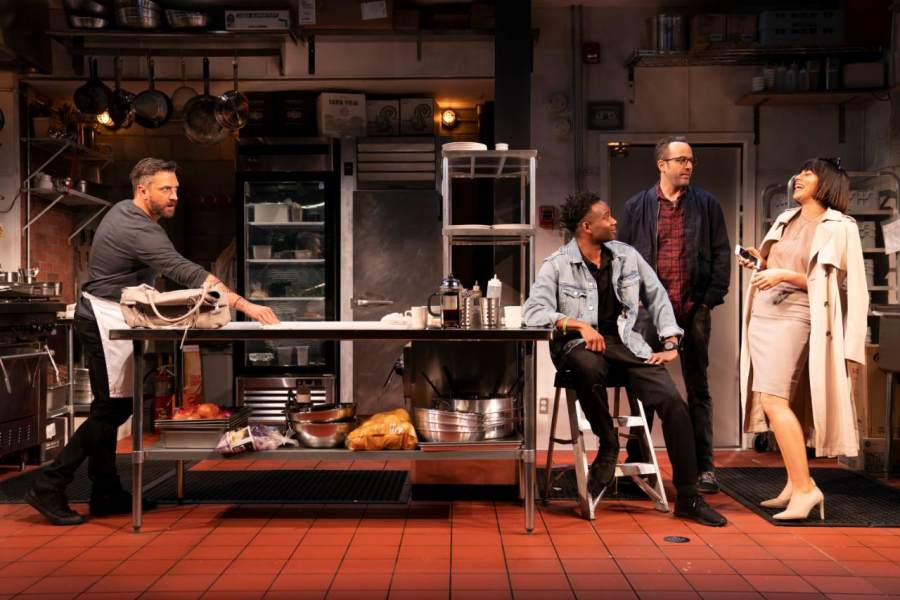 It opens in a whirlwind of activity. The chef chops, minces, slices and dices, rushing between stove and counter. He throws in spices, tastes, then adds sauces, all to the jazz playing in the background. Like a skilled performer in a well-choreographed dance, he removes the salmon from the oven, adds a dollop of the mixture over the fish and tastes the creation. He smiles. And the audience at the MCC Theater applauded because this isn't a professional chef in a restaurant; this is actor-singer Raul Esparza in the play Seared by Theresa Rebeck.
This culinary display is the highlight of the play about Harry, a temperamental genius chef working in a restaurant in Brooklyn. Esparza ("Law and Order," "Company") plays the diva in the kitchen. After years of struggling in other peoples' kitchens, he goes into partnership with Michael, who provides the necessary money. Harry claims that money isn't important to him, saying "money is not real! Food is real!" Yet he takes half of waiter Rodney's tips.
When a "Best Bets" notice appears in New York Magazine praising his scallops, he refuses to serve them anymore. Is Harry temperamental or afraid to succeed? Does he just want total control? He meets his match when Mike (a genial, mostly mild-mannered David Mason) brings in Emily (Krysta Rodriguez,) a restaurant consultant. Mike realizes that this is their one chance to become successful financially, but Harry thwarts him at every turn. Emily increases the size of the restaurant by adding outside tables, forces Harry to create new signature dishes and even has menus printed. Harry is losing control but when he learns that an influential food critic is coming, he appears to have a meltdown. Will he pull himself together and make the restaurant a success?
Esparza has perfected the cadence of cooking, moving quickly, yet assuredly, in the small kitchen. The set has all the accoutrements of a working kitchen. Pots, pans, ancient microwave (where the chef stores anchovies), spices, pre-filled plastic sauce containers and what looks like a small working refrigerator. Displaying his usual acting expertise, intense and fiery, Esparza has us salivating at his food while focusing on his performance.
Krysta Rodriguez first enters as a perfect foil to Esparza's manic behavior. Wearing a constant smile, she is saccharine sweet, even as she is calculated and methodical with a clear vision for the failing restaurant. Rodriguez comes across as a confident, no-nonsense millennial.
All the acting is quite good. The four characters move around the tight kitchen in well-organized fashion. The love interest that arises between two main characters seems unnecessary but was probably expected to happen when people work so closely together.
There are a couple of fiery scenes when Michael and Chef confront one another over the future of the restaurant. We know they've been friends for a long time, but their different visions lead to a heated confrontation. Rodriquez remains somewhat cool throughout, and Rodney (W.Tre Davis) provides the perfect balance.
Written by Rebeck (TV's "Smash," "Seminar," "Mauritius" among others,) "Seared" is quick-paced with real-life dialogue. The characters often speak quickly and talk over each other, in an Aaron Sorkin-like style. Directed by Mortiz Von Stuelpnagel, who directed Rebeck's "Bernhardt/Hamlet", "Seared" is a fascinating glimpse into what undoubtedly happens in an ego-fueled, money -losing hot restaurant with high expectations. The play will intrigue you, make your mouth water and have you wishing for samples.