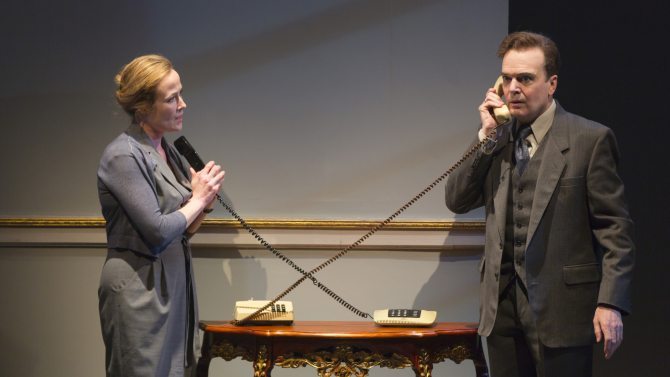 A play about talking has never been this exciting. But Oslo, now on Broadway at the Lincoln Center Theater after a successful off-Broadway run, is just that and more: engaging, funny, evenly paced, illuminating. Playwright J.T. Rogers has crafted a glorious, humorous and, ultimately, human recreation of the year and a half of peace talks and negotiations that led up to the 1993 Oslo Accord between Israel and the Palestine Liberation Organization. Director Bartlett Sher (Tony-winner for South Pacific) does the story justice with a brilliant production that yields more tension-building scenes than a thriller and a wonderful cast that works magic within the three hour run time.
Oslo tells the story of Norwegian Foreign Ministry official Mona Juul (Jennifer Ehle), who, together with her husband, social scientist Terje Rød-Larsen (Jefferson Mays), brokers a series of secretive, back channel talks between two small delegations from the PLO and Israel. Covertly ushered to a top secret estate outside Oslo, Norway, the Palestinians and Israelis attempt the impossible: to end the decades-long conflict between Israel and Palestine.
At first, these natural enemies give each other a chilly reception. There are no handshakes. There are no pleasantries. These are men who have never even been in the same room as someone from the opposite side. But eventually, as the intimacy grows between the men and they come to know each other as people, they even start to regard each other as friends. All this as violence continues to escalate between their peoples. As if to add to the tension, footage of the violence from archived news coverage is periodically projected on the elegant and minimalist stage (sets by Michael Yeargan). The Norwegians steadfastly refuse to take sides, as does Rogers. Oslo is entirely neutral about the conflict, presenting both sides equally through the narrative of the negotiations.
If all this sounds rather dry and historical, worry not. While history is definitely at the root of the storytelling, the heart of Oslo is the human interaction, and that is juicy stuff. One of the finer moments is when PLO Finance Minister Ahmed "Abu Ala" Qurie (Anthony Azizi) and Israeli Foreign Ministry representative Uri Savir (Michael Aronov) go for a walk in the snowy woods after a particularly heated moment. Both passionate men dedicated to their own people, they find common ground through their families. Azizi and Aronov approach their characters with a rich complexity that defies stereotype. The whole cast, in fact, is exceptionally skilled at avoiding characterizations.
Of course, Oslo contains plenty of humor to leaven the tension. Some fun is made of PLO representative Hassan Asfour's (Dariush Kashani) communist leanings. University of Haifa economics professors Yair Hirschfeld (Daniel Oreskes) and Ron Pundak (Daniel Jenkins) from the Israeli delegation are quick with the jokes ("Did you hear the one about the rabbi and the Buddhist priest...?"). They bond over the free-flowing alcohol and delicious waffles made by their Swedish hostess, Toril Grandal (Henny Russell).
Although we know that the Oslo Accord eventually falls through and violence continues in the Middle East, Oslo offers a sliver of hope: If these people who had no hope that peace could ever be achieved can take such a large step forward, there is the possibility of it happening again. It's the hope for progress and the power of human connection that can chip away at even the most intractable conflict.